Tea is arguably one of the world's most important plant products in history. So much so that on 16 December 1773, the Sons of Liberty protested against the English East India Company. This was done to protest against the unfair taxing policies imposed by them. They had passed a bill that effectively enabled them to extort the American people while they themselves paid little to no taxes for tea trade.
They boarded the ships and destroyed the chests upon chests of tea. The British government didn't take it too kindly and were quick to retaliate harshly. This whole event became quite iconic and was directly responsible for the American Revolution.
So, tea wields the power to change the world. However, this aromatic beverage isn't limited to just that. This wonderful beverage also comes with a laundry list of health benefits. These effects will convince even the most skeptical coffee lover to sip tea once a day.
The health benefits are as follows:
Tea contains antioxidants. Antioxidants are very important to combat the free radicals that our body produces during respiration. A healthy dose of antioxidants can keep your body from deteriorating and help you combat aging to an extent.
It contains less caffeine than coffee. Now, we all know the primary reason that everyone consumes coffee is to stay awake at their jobs. Very few people actually enjoy coffee for its taste and aroma. Therefore, if you don't like what caffeine does to you and want to switch over to a beverage that is tasty and won't convert you into a squirrel on drugs, tea is your best friend.
Several studies have found that tea may reduce the risk of heart attack and strokes. And, as far as I know, no one likes that stuff. Therefore, you should switch over to the tea side ASAP!
Aside from that, tea also aids in weight loss and protects against bone degradation.
Last but not least. Tea can also boost your immune system and may help in fighting cancer.
So, what are you waiting for? Go buy tea right now! What? You don't know what to get? Well then, worry not, you are at the right place! We will tell you everything that you need to know before you go and spend your hard earned bucks. However, every tea that we will recommend will be in a class of its own. Therefore, don't even try to compare it with that economic supermarket stuff!
Here we go!
10. Silver Tips Imperial Tea
Brought to you from the heights of the Himalayas, this special tea is renowned for its color and robust flavor. The plants are grown at a height of 8,000 feet above the sea level. Makaibari Tea Estate, the first ever tea factory in the world processes the tea leaves after they have been harvested. The factory is located in Darjeeling, India.
The price? Well, it is not too crazy. At just $400 per kilogram, this tea is a great value for everything that it offers along with it.
9. Gorreana- Broken Leaf Black Tea
This tea hails from the oldest tea plantation in Europe. As if that wasn't special enough, the plantation it comes from is also the only one that is still in operation in Europe. The plantation has very diverse offerings however the Broken Leaf Black Tea is quite special. It consists of only the third leaves of each tea plant branch.
It's copper color and fruity aroma set it apart from other teas. This tea too, won't break your bank since it comes at just $405 per kilogram.
8. Gyokuro Tea
The leaves from the tea shrub are ground as part of the production process in most cases. However, this isn't your run of the mill usual case. This tea is special and needs some special attention. The name Gyokuro stands for Jade Dew. As its name implies, this tea exhibits the green color quite vibrantly. In order to increase the amino acid content of the leaves, the Japanese people shield the leaves from sunlight for two weeks before harvest.
Doing this enables the tea to develop a unique aroma and sweet taste. The tea hails from the Uji district in Japan and goes for around $650 per kilogram. The price, of course, is quite good considering what you get for your money.
7. Poo Poo Pu-Erh Tea
Despite what its name might suggest, this tea isn't something a toddler came up with after one too many incidents of his diaper being yellow. In fact, this tea was originally conceptualized in the 18th century. Chinese Emperor Qianlong was one of the first to enjoy it. He received it as a gift from a well-wisher.
So, why the cryptic name? Well, as I said, a toddler didn't name this tea, however some adults with basically the same thought processes did it. Someone in China looked at insect poo poo and went, "Gee, what would happen if I boiled this shit? (Pun intended) Maybe it will taste really good." Lo and behold! The poo poo tea was born! It really takes a special kind of genius to come up with something like this.
The tea is now produced in the tea farms in Taiwan. The workers carefully remove tea leaves from the insect poo. How did the leaves end up there you wonder? Well, it is obviously because the insect fed on it duh.
Now, this tea costs $1,000 per kilogram and I must say, for something that comes from a pile of shit, it sure is expensive! I mean, the workers gotta be properly compensated for the great work they do after all.
6. Tieguanyin Tea
This tea borrows its name from the Buddhist Iron Goddess of Mercy, Tieguanyin. This Oolong tea is a mixture of green and black teas. The leaves of the tea are fermented in order to impart a distinctive chestnut flavor to it. After all, the flavor is what sets it apart from other Oolong teas. The trees are grown on the highest mountain in the Fujian Province. The leaves have to be dried, oxidized, rolled, roasted and scented after they are harvested.

The tea goes for $3000 per kilogram. However, if that feels expensive to you, do note that the leaves of this tea can be used up to seven times consecutively to make tea. That means you will need to boil the leaves and extract its juices seven times before you will notice any loss of flavor.

5. Yellow Gold Tea Buds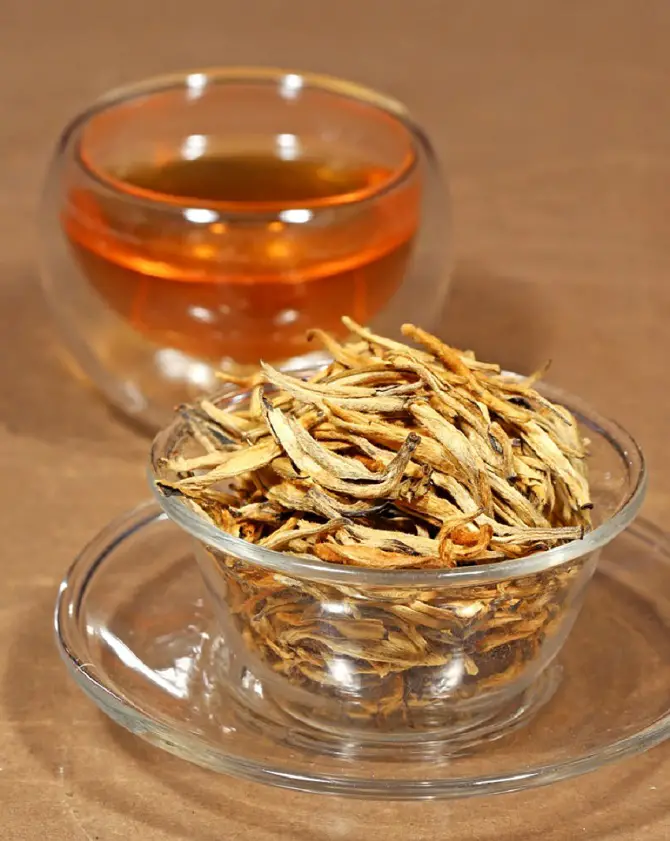 Surfing through the list but missing anything that contains gold? Worry not! This tea exists solely to satiate your superior taste. The tea comes sprayed with edible 24-carat gold. However, that isn't the only thing that makes it special. The tea is also quite rare since they can only be harvested one day a year. The harvesting method itself is quite unique since it requires the workers to snip the leaves from the plants using gold shears.
The cost of this rarity is also $3,000 per kilogram. So, what are you waiting for gold lover, just go ahead and splurge!
4. Vintage Narcissus
You know it is going to be good when it has the word Narcissus in its name. What is a Narcissus you ask? Well, Narcissus was the most beautiful man ever. The term narcissism was derived from his name. The more you know!
Well, now that you know what that is, let's proceed. This tea is one of the rarest Oolong tea around. It is grown on the Wuyi mountain. To imbue them with an exquisite flavor, the tea leaves are oxidized to around 60%. This, in turn, results in the tea takes on a chocolatey, floral and wooden taste.
The price of this tea is $6,500 per kilogram. Worth it considering everything that the tea has to offer.
3. Panda Dung Tea
This is another tea in this list that comes from poo poo. However, this time the poo poo being used belongs to the Panda. The Pandas munch on Bamboo shoots and tea leaves. You can see where this is going, don't you? Since the Panda munches on tea leaves, people go and extract the said leaves from the poo poo and sell it to the general populace.
I said it before and I will mention it again, it really does take a special kind of genius to come up with something like this. This tea doesn't come cheap either. It costs a staggering $70,000 per kilogram. However, that isn't because the people who buy this really like poo poo (Hey, even if you do, no one's judging you. I promise.). Its expense comes from the fact that the tea itself is hard to extract and comes packed with nutrients to the brim.
2. PG Tips Diamond Tea Bag
Now, I will be honest. This particular tea doesn't get its price from the tea leaves alone. Rather, it is the bling that comes with it that hikes the price up. So, what is so special about it? Well, for your $15,000 a bag, you get a teabag that is adorned with 280 pieces of diamonds that have been handcrafted by Boodles jewelers.
However, just because its price comes from the diamonds does not mean that the leaves used were inferior. Quite the opposite actually! The tea leaves used in this are the Silver Tips Imperial Tea. The teabags were made to celebrate the 75th anniversary of PG Tips.
Just one bag alone will set you back $15,000. There are two reasons why these are so expensive. First, they are filled with a rare variety called Silver Tips Imperial Tea. Second, the teabags are adorned with 280 pieces of diamonds, handcrafted by Boodles jewelers. The teabags were made to commemorate PG Tips' 75th anniversary.
1. Da-Hong Pao Tea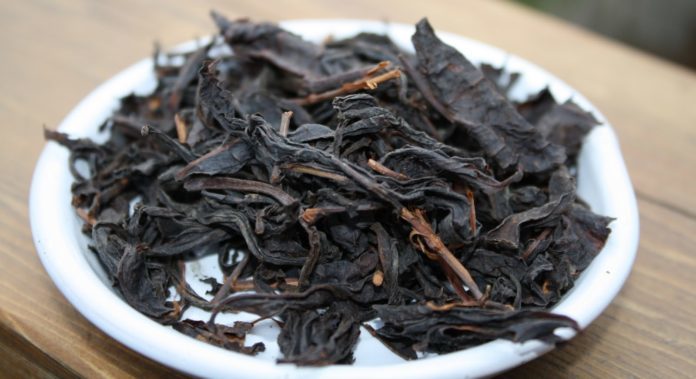 This is one of the most valuable tea in the world as it retails for around $1.2 million per kilogram. This tea is so valuable that China considers it a national treasure. The tea dates back to the Ming dynasty and the harvesting process is a very closely guarded secret. The tea is often used as a gift for dignitaries and important people.