Bentley has just launched the Flying Spur Mulliner, and it is shaping out to be the pinnacle of luxury. Earlier, the Bentley Mulsanne's discontinuation saddened the fans as they lost one of the most luxurious cars ever built. However, the newly launched Flying Spur Mulliner is now taking that seat, and it comes with a lot of exciting upgrades over the regular Flying Spur.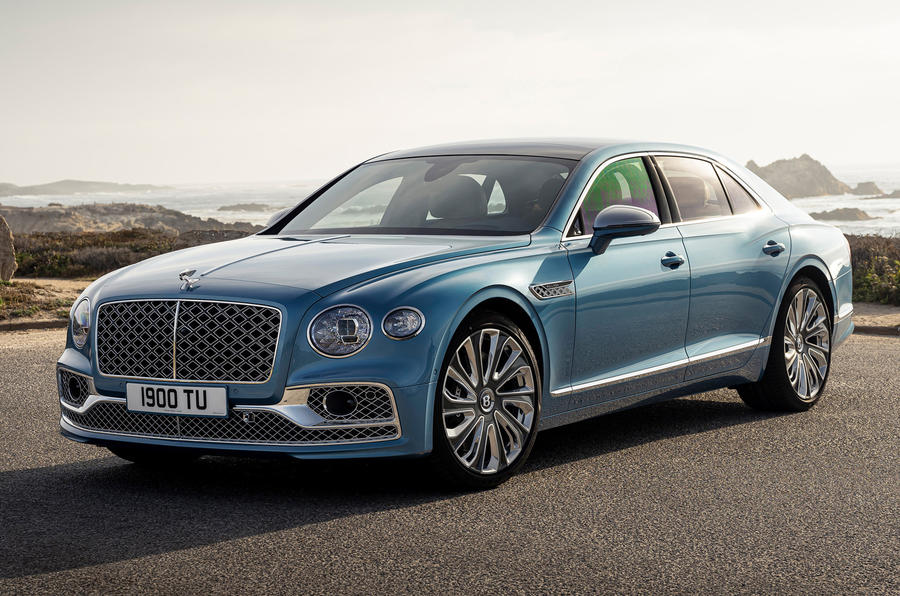 The Upgrades:
The new model is available with three powertrains. They are the twin-turbo W-12, the twin-turbo V-8, and the newly introduced hybridized V6. Each of these trims will come with a set of exclusive 22-inch wheels explicitly made for the Mulliner. These wheels come with a self-leveling wheel cap which ensures that the Bentley logo is always upright and readable.
The chrome grille comes with a double-diamond pattern. Special Mulliner fender vents and satin silver door mirror caps also add to the exterior beauty. The hood ornament illuminates when raised and can be easily retracted if you don't need it.
The door sill plates also have illumination, and once you enter the car, you will be greeted by specially embroidered leather seats and deep-pile carpeting specific to the Mulliner. The leather seats are also quilted, with each diamond in the quilt requiring 712 stitches. Bentley equips the rear seats with unique wood veneer tray tables that can be electronically deployed and have the ability to self-level. High-quality leather covers the surface of these tables for that extra touch of luxury.
Other Perks:
Bentley is offering a ton of custom color combinations for the buyers of the Flying Spur Mulliner. However, if you don't wish to rack your brain to make the perfect combination, you can choose from multiple curated interiors Bentley will also offer.
The keys for this majestic car will be delivered in a custom-made presentation box. This box will come color-matched with the interior, and it has been specially handcrafted. Finally, the box will also feature the Mulliner branding on it to complete the experience.
The dashboard will feature a brushed silver Mulliner clock in the center. This clock will come combined with a digital instrument panel which also features a custom Mulliner theme. Lastly, the model will also include a rotating display, heated seats, and a panoramic sunroof.
Pricing:
The V8 version will start from £220,100 while the W12's starting price will be £230,400. As for the hybrid model, Bentley still hasn't confirmed its price. Though, one thing is sure that this kind of pricing makes this model the most expensive series-production Bentley to date.
Like Bentleys? Then you'll love reading about this Bentley that was sold for $6.3 million at an auction!