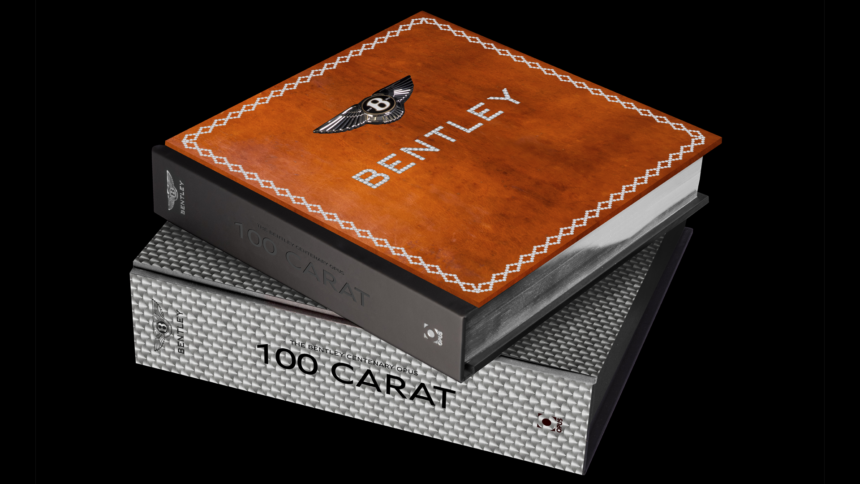 Bentley is celebrating its 100th anniversary this year. To mark this milestone, the brand is rolling out a complete history of its company with a new book. However, don't expect it at your local book stand.
It's called the Bentley Centenary Opus, and it's about the most impressive book we've ever seen. The book comes in at over three feet wide when opened, and is heavy weighing a whopping 66lb (30kg). Bentley says that's the heaviest automotive history book ever published, and we don't disagree either.

There are nine chapter spanning over 800 pages. It's packed full of glossy photos, including never seen before photos, picked up from deep within the Bentley vaults.
The noticeable thing about the book is that the book is bind by hand with the same leather that you'll find in the Bentley's cars. And all of it is done by none other than the specialist in luxury book publishing – Opus. The unique bit is that the customers get to choose the colour, so that the car and the book is twining.

While all of these already sound opulent, but hold on! There is more to it. A special run of seven (one for each continent) 100 Carat Edition books will feature 100 carats worth of diamonds on the cover surrounding the company's logo. The badge is identical to the ones on the Centenary model cars, finished in either white gold or platinum.

With all of these magnificent additions, this book surely has to be with a hefty price tag. The top-tier 100 Carat Edition comes with a price tag of $256,000. That's only marginally less than the price of the flagship Bentley Mulsanne model.
Bentley said: 'At almost a metre wide when opened and weighing approximately 30 kilos, the Bentley Centenary Opus is much more than a coffee table book. Indeed it is the biggest book ever produced on the story of an automotive brand.'
In addition to the $255042 diamond-decorated books, Bentley is publishing a Mulliner Edition version of 100 copies costing $15940 each and a Centenary Edition of 500 copies costing$3825 each.