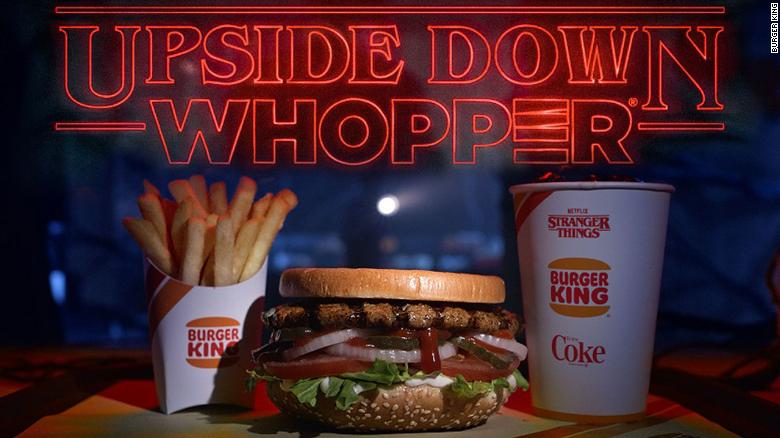 Burger King has figured out the marketing opportunity! It's serving upside-down Whoppers available in 1980s-era packaging.
This is just a regular Whopper served with the bottom of the bun on the top of the burger and the top of the bun on the bottom. It's just like a normal Whopper, but upside-down inside a custom "Stranger things" themed box.
The hamburger chain announced its partnership with Netflix's "Stranger Things." This means it will soon sell an "Upside-Down Whopper" sandwich at select locations in the U.S.
More about the "Upside-Down" Whopper
The Upside-Down is an alternative universe in "Stranger Things." It is a show set in the 1980s that centres around the lives of four adolescent boys and their friends. The new season premieres on the streaming service on July 4.  
The limited edition packaging will be available at 11 Burger King restaurants. The number eleven is in honour of series character Eleven. Starting June 21, it will be available at restaurants in Miami, Houston, Boston, Atlanta, Philadelphia, Dallas, Chicago, San Francisco, Los Angeles and New York.
These restaurants will also offer limited edition TV series inspired accessories. T-shirts, crowns, ketchup packets and pins are a part of it.
The chain is partnering with Coke on a contest on Burger King app. The winners can earn special prizes from food to a 'Stranger Things' VIP Experience.
The promotion comes as competition tightens in the fast food business. Promotions like the upside-down Whopper will get people flock to the restaurants. People will rush in to lay their hands on the new offering before the deal ends.
For Netflix, the partnership is a way to advertise in new spaces.
"Netflix is an internet company, so associating its brand and shows with physical products helps customers think about its shows even when they're offline." said Barry Smyth, head of global partner marketing at Netflix.
To promote the upcoming season of the series, Netflix is partnering with other companies too. Lego, H&M, Schwinn and Baskin-Robbins are some of them in that endeavour.
Burger King will also include DoorDash delivery as part of the promotion. Beginning Wednesday for a week, it will sell a Whopper meal, which includes a small drink and small fries, for $5 on the app with $0 delivery fees if the whole order costs more than $10.
Customers need to enter the code "STRANGER" to access the deal on the DoorDash app or website, where they will be able to watch previews of the new season of "Stranger Things."