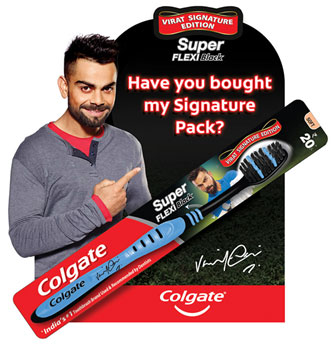 Colgate-Palmolive (India) has capitalised on the ongoing cricket fervour in India. It has launched the special limited edition of Super Flexi Black toothbrushes with the much loved Indian Cricket Team Captain Virat Kohli's signature.
World Cup 2019 has Indians glued to their television sets to watch the gods play on the field. In fact, the magnitude of Indians' love for cricket is as incomprehensible as its feverish intensity.
These toothbrushes will be available for a limited period – till August 2019 on the markets across India. These limited-edition toothbrushes mark the first ever autographed range of toothbrushes by Colgate.
Colgate has been a pioneer in tubes of toothpaste, toothbrushes and oral hygiene. It has established itself as one of the most trusted brands in the world. This move once again gives the organisation 'first mover' advantage.
While the collaboration between Colgate and Kohli to come up with autographed toothbrushes is a first of its kind, the Indian Cricket Team captain has been associated with the oral care brand for a while now.
The launch of the Super Flexi Black Virat Kohli signature series comes at a time when Kohli is away for the World Cup, giving his fans another reason to celebrate.
Talking about the limited-edition Super Flexi Black toothbrushes, Virat Kohli said, "I am as disciplined about my oral care habits as I am about my game and fitness, even to the extent of replacing my toothbrush regularly.
I have been using and also recommending Colgate toothbrushes to my friends/fans for years now, which is why the idea of doing a limited-edition autographed Super Flexi toothbrushes got me intrigued and excited – primarily because I haven't autographed a toothbrush before. And interestingly, it's a first for Colgate too! Also, it felt like a nice, new way to reach out to my fans, and at the same time encouraging good oral-hygiene. I hope people like it."
About Colgate Super Flexi:
Colgate Super Flexi is India's largest selling toothbrush. Its flexible neck reaches the hard to reach areas of the mouth for a superior clean with a gentle feel. It is available in three variants Super Flexi Base, Super Flexi Black and Super Flexi Sensitive.