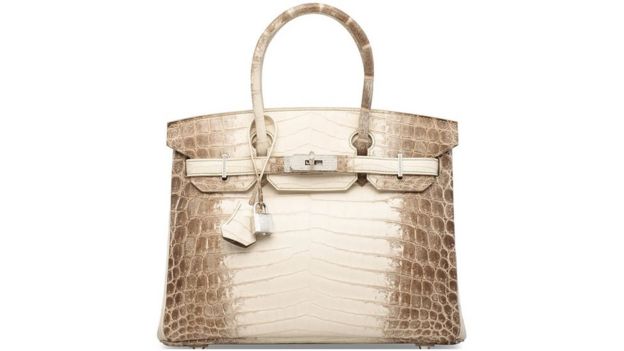 It's been proven that a Birkin is a better investment than shares in the stock market.
While you may already know that the Hermès Birkin bag was named after the French style icon Jane Birkin, and that waiting lists to buy the pricey purses can be years long.
Report is that a Hermes Birkin bag sold for $183,566 at Christie's, the British auction house, on Tuesday was way more than the anticipated sales price.
The auctioned style was the 2015 Himalaya niloticus crocodile Birkin 35. The sale makes it the second most expensive handbag ever sold at auction, after the record was broken in 2018 when the Matte Himalaya Niloticus Crocodile Birkin 35 with 18k White Gold & Diamond Hardware went for $267,442.
The ravishing Hermès Himalaya Birkin Bag is considered the Holy Grail in a Handbag collection. How did this handbag achieve such cachet? The answer lies in the construction of this wearable work of art, a striking blend of superlative design with fabulous materials.
The Himalaya Birkin is crafted from Nile crocodile hide. The name 'Himalaya' does not apply to the origin of the bag, but rather to the delicate gradation of the colour. The smoky grey fades into a pearly white, resembling the majestic, snow-capped Himalayas.
The process of dyeing a crocodile hide is time-consuming and exponentially more difficult as the shades lighten — to create the immaculate white of the snow and the gradation to rocky grey requires great skill and a fine eye.
The Himalaya Birkin is the ultimate expression of the artistry and tradition of the storied Hermès House. Handbag collectors around the world recognise the rarity and exquisite craftsmanship behind the Himalaya.
Bidders from 41 countries, across six continents, participated in the auction – which took place on Tuesday – with sales of 243 handbags totalling $3.8m.
Other items that went under the hammer and fetched more than their expected price included a 2017 Chanel black lucite and crystal rocket ship evening bag, and a 2010 shiny amethyst alligator bag.
Rachel Koffsky, Christie's head of handbags and accessories in London, said: "We are delighted with the results of today's Handbags and Accessories auction, which reflects the maturing market for handbags around the world.
"With a full saleroom, a packed phonebank, and bidding from across the globe, the auction demonstrates the international demand for collectable and rare handbags."