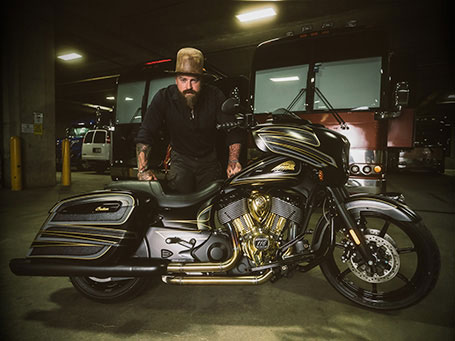 Indian Chieftain Dark Horse gets a makeover by our very own Zac Brown Collective.

Indian motorcycle, America's first motorcycle company and Zac Brown Collective have showcased one-of-a-kind Indian Chieftain Dark Horse limited edition. The custom motorcycle is modified by the innovative team of artists, fabricators and engineers at Zac Brown Collective.

The Indian Chieftain Dark Horse is a heavyweight bagger targeted at touring enthusiasts. It took two months long to get the beauty hand striped and painted with charcoal flake and 24karat gold leaf with a satin clear coat finish. The Dark House is custom designed with dual exhaust for better flow and power to the engine.
More gold plates the engine components, while the seat and saddle bag liners are woven using a one-off fabric. Custom 21-inch front and 16-inch rear wheels cap the custom bike off.
The best thing about this limited edition bike is that the money goes for a good cause. All the fortune from this will directly go to "Camp Southern Ground" – a non-profit project founded by Zac Brown Band frontman that serves children with autism, dyslexia and other developmental challenges.
"It's incredible to be partnering with a brand as iconic and historic as Indian Motorcycle – a group of people that are clearly as passionate about craftsmanship as we are," said Brown.
"The custom Indian Chieftain Dark Horse is an example that craftsmanship is more than merely a labor of love, but truly an art form. We're thrilled to channel the power of this incredible motorcycle to benefit Camp Southern Ground." – Quote
Visit the official page for more details : www.indianmotorcycle.com