Back in 2012, Lil' Wayne's diamond-encrusted Beats Pro headphones had totally stolen the show at an NBA All-Star game in Orlando. Now we hear, these $1 million headphones are to be auctioned soon. This is a one-of-a-kind piece, with 1,500 diamonds weighing over 120 carats and 28 rubies comprising 3.35 carats. They're designed by British luxury jeweller Graff, and were created for performers of Super Bowl XLVI. It has been worn by SkyBlue from the electronic duo LMFAO, celebrity singer Madonna, other than Lil' Wayne, since then.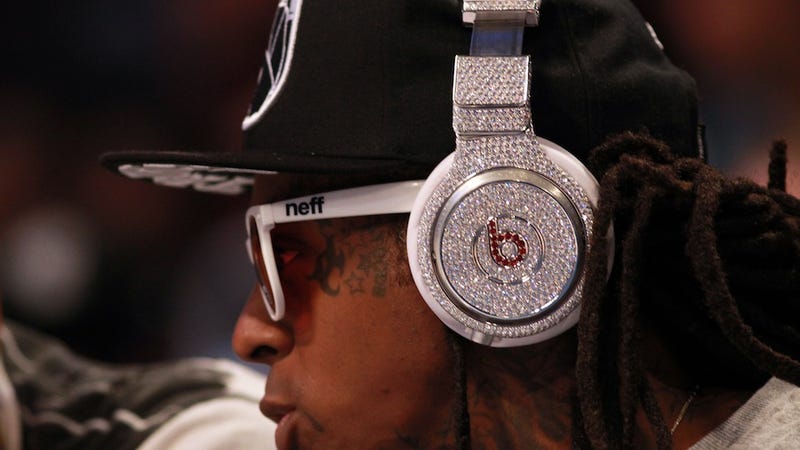 Why was he wearing earphones to a game, you may ask? No, it wasn't just another quirk in the life of the rich and famous. Wayne was showing some love to his friend Dr. Dre, by sporting his gear. Of course, they were not the regular $200 Beats by Dr. Dre, but diamond encrusted ones.
They're part of an auction at Christie's New York, titled 'Magnificent Jewels', which goes up on December 11. A selection of coloured diamonds, colourless diamonds, and gemstones, alongside important signed pieces by the likes of Bulgari, Cartier and Tiffany & Co, will be also be put on auction.
Lil' Wayne's headphones are expected to fetch somewhere between $100,000 and $150,000. He clearly seemed unfazed by their value during the basketball game, when he jumped around with Kevin Durant while wearing those headphones, not worried at all about damaging them. This is impressive too, because we're sure diamond earphones must be pretty heavy.