If there's any brand who understands the need for classic, quality pens, it's Montblanc. They have partnered with the Webster, a brand which symbolizes luxury and design. Montblanc's timeless writing pleasures are being taken up a notch with Webster's popping pink and flamingo design.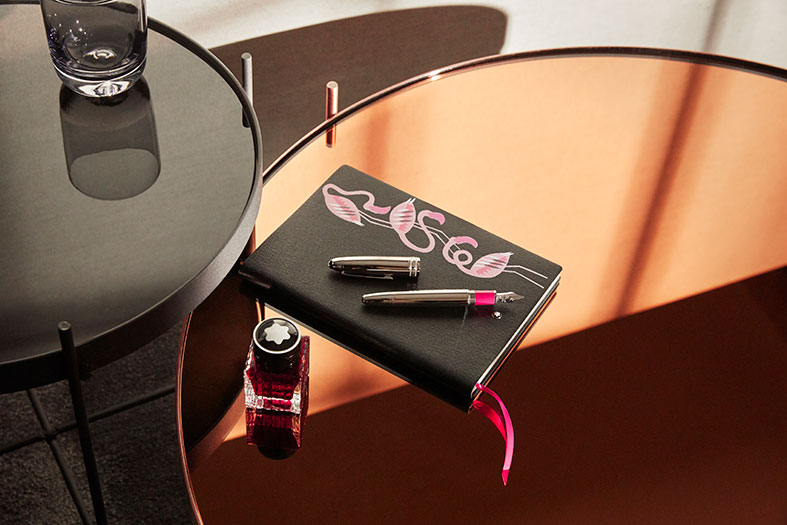 The Solitaire Fountain Pen features a platinum-plated cap and barrel, and a bold pink lacquer forepart. The Webster signature pink flamingo is etched on the 18K rhodium coated nib. There's also a notebook included in the set, which also has the flamingo logo. It weighs 558.5g. The whole set is encased in a black coffret, with the flamingo embedded on it. The writing instrument cap and barrel is made of hand-crafted Au750 / 18K gold nib rhodium coated with a special flamingo design. The notebook is created using calfskin leather. It also has a pink coloured bookmark, and a 50ml ink bottle with the Webster signature colour pink.
The collection was officially released at The Webster's SoHo location. It had celebrity guests such as Maggie Gyllenhaal and Peter Sarsgaard attending. The unique collaboration will also be available at the same store for purchase.
Webster founder Laure Hériard Dubreuil said, "I am thrilled to partner with Montblanc and to have an exclusive that is so very much The Webster it is such an honour! Montblanc is the epitome of luxury; every little detail is addressed from the design to the function of their writing instruments." The special edition coffret costs $1655. You can find out more about it here.