Everyone notices shoes. They are the integral part of dressing up. Maybe that's why so many people treat themselves to luxury footwear that impresses others, displays personal style and shows status. The expensive shoe brands listed here costs bomb, but look glamorous.
As said by Coco Chanel, A woman with good shoes is never ugly.
Cinderella is a proof that a new pair of shoes can change your life, that's the power of a good footwear.

Here's the 2019 list of Most Expensive Shoes in the World!
11. Stuart Weitzman "Marilyn Monroe" Shoes – $1 Million

Diamonds are a girl's best friend, and these shoes are the very incarnation of Marilyn Monroe's boldest dreams.

The centrepiece of these stilettos are the Swarovski crystals wrapped in a delicate satin rose. The shoes are named after Hollywood's most famous blonde for a reason. The crystals embellishing them are in fact a pair of earrings that once belonged to Marilyn Monroe herself, putting a whole new meaning to wearing jewellery on your toes.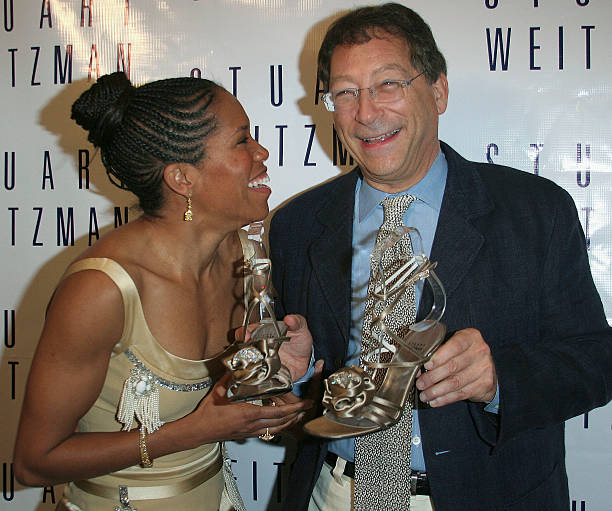 The opulent, elegant, and nude stilettos adorned the lucky feet of Regina King at the 2005 Academy Awards when she was nominated for her role in the movie "Ray." After the Oscars, Weitzman replaced Marilyn's earrings with replicas and it went under the hammer at the Celebrity Rags 4 Charity Riches auction, where they fetched $1 million.
10. Stuart Weitzman Retro Rose Pumps – $1 Million

These shoes are bound to bring smile to your face. The bright golden pumps with spike heel are inspired by the 1940's Hollywood and the period's iconic T-strap. The centrepiece is a rose placed close to the toes made from 1,800 Kwiat diamonds summing up 100 karats. The classic design is a great out-of-the box thinking. The elaborate roses placed at the toe is a true invention which is extremely unique.

The deluxe gold leather pair of shoes boasts another 400 diamonds throughout the rest of their surface.
Weitzman chose Cody Diablo, the screenplay writer of Juno to wear his creation at the 2008 Oscars, but she refused, making the headlines and raising much controversy around the glimmer retro pumps.

9. Stuart Weitzman Platinum Guild Stilettos – $1.06 Million
These fascinating strappy stilettos are the very essence of perfection, boasting precisely 464 finely cut pear-shaped Kwiat diamonds. Their only flaw I would say is the price tag, a whopping $1 million.
The strap embellishing the ankle is actually inspired by a neck piece. What's even more amazing is that the precious straps of gems can be removed and worn either as a necklace or as a bracelet.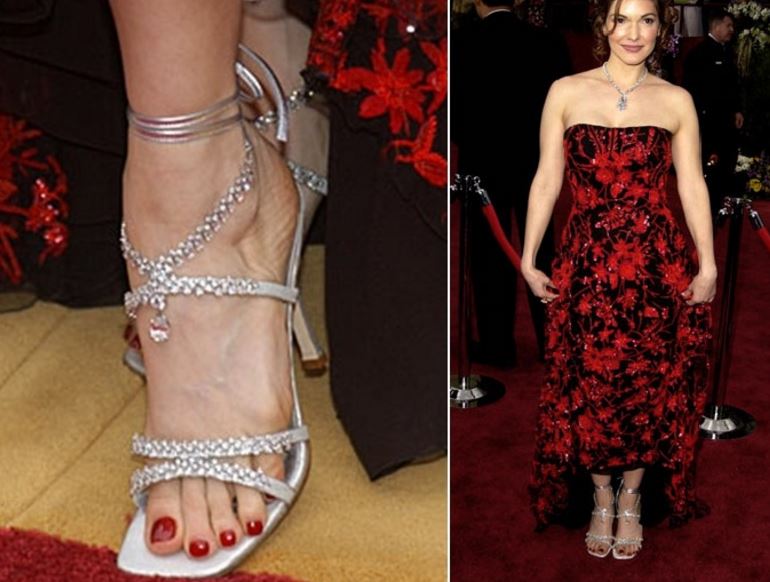 These sandals with pencil heels were worn by Laura Harring, the actress of Mulholland Drive. Hers were the lucky feet to unveil the Stuart Weitzman creation at the 2002 Oscars, when she was accompanied by three bodyguards.
Inspired by #YangMi, who is regularly #inourshoes, the #StuartWeitzman for #YangMi collection comprises luxe, embellished designs—ready for the red carpet and beyond. #StuartWeitzman #SWYM https://t.co/PQGRBoSc7A pic.twitter.com/tKeJj980eB

— Stuart Weitzman (@StuartWeitzman) March 15, 2019
8. Stuart Weitzman Wizard of OZ Ruby Stilettos – $1.6 Million
The legendary shoe designer breaks record after record. Stuart Weitzman is known for his use of precious materials that come with matching price tags. These sparkling red platinum and rubies slippers are inspired by the Wizard of OZ. After Harry Winston's rendition of the ruby slippers, comes a more updated version of the same by Stuart Weitzman. Only this time around they are heels.

Planning for a romantic dinner? These are the perfect shoes to go with. Entrusted with 123-karat rubies set in platinum, summing up to one pound, they count no less than 642 rare Burmese rubies.

These gorgeous slippers were expected to debut in 2003 in the red carpet. Unfortunately they were shelved due to war in Iraq, and were unveiled later the same year when they were exhibited at Harrod's in London.

7. Tom Ford Custom By Jason Arasheben – $2 Million
Not to miss is Tom Ford Custom diamond studded shoes by Jason Arasheben. They are stylish yet comfortable. Priced at whopping $2 Million it broke the Guinness World Record for "The Most Expensive Shoes in the world."
If you're wondering to have seen these shoes somewhere. Yes, you got it right! It's the same shoe which Nick Cannon wore on the Season Nine finale of 'America's Got Talent.' In fact this shoe was specifically custom-made for Nick Cannon by California-based jeweller Jason of Beverly Hills. To make this luxurious jewellery into a shoe, Jason of Beverly Hills added a Tom Ford sole.


Jason Arasheben, who created the shoes, told
"Not very often do I get a request for the most expensive shoes in the world. When Nick approached me last year, he said he wanted to make history and be so over the top. He wanted to set a new standard in diamonds. 'How can we make the most expensive pair of shoes in the world and make this finale special?' he asked me. We didn't want him looking like Frankenstein when he walked, we still needed to consider functionality. He's not going to win a race or play basketball with these. It's still a piece of jewelry. As long as he's not too overly aggressive in the shoes, everything should be all right.'"

6. Stuart Weitzman Tanzanite Heels – $2 Million
Tanzanite is a precious blue coloured gem discovered by famous jeweller Tiffany in Tanzania. Designed by Stuart Weitzman himself, together with Eddie Le Vian of France, these stilettos are any women's dream to wear.

The high heels are encrusted with 595-karat Kwiat diamond, while the straps boast 28 karat diamonds and 185 karat tanzanite stones, all finely set in silver.

These are an exquisite work of art, with their sparkling blue tanzanite and glittering diamonds, all supported by a shining silver framework, topped by an ankle strap with 16 karats worth tanzanite gems and a delicate toe strap embellished with diamonds.
5. Stuart Weitzman Cinderella Slippers – $2 Million

Weitzman's inspiration can be tracked back to many fairy tales and the fascinating interwar period. Disney's most beloved princess, Cinderella's glass slippers could not be ignored.

Made from fine Italian leather no less than 565 kwiat diamonds are carefully set in platinum. With a delicate lace like design, they boast a rare 5 karat amaretto diamond which alone is estimated at over $1 million. It is the only spot of colour on the slippers.
The four inch stiletto pays a tribute to everyone's favourite heroine, Cinderella. It is almost transparent and seems to disappear completely, leaving only the shimmering diamonds in the limelight.

Well, if you think that these slippers are made of glass? Hold on! That's simply an illusion. The fantasy world glittery creation was first worn by Alison Krauss at the 2004 Academy Awards.
4. Stuart Weitzman Rita Hayworth Heels – $3 Million

This is a selective pair from Stuart Weitzman with various work of art including rubies, precious stones and sapphires. The Rita Hayworth heels were inspired by a favourite pair of earrings worn by the late actress. The open-toed heels created from rust-colored satin and adorned with rubies, sapphires and diamonds nested in a satin ruffle at the toe.

These beauties are worth a staggering $3 million, but they're not for sale – they're owned by Princess Yasmin Aga Khan, Rita Hayworth's daughter.

3. Harry Winston Ruby Slippers – $3 Million

These are in fact the replicas of the little red shoes from the Wizard of OZ. The only difference between the two is that these have a total of 4,600 sparkling rubies summing up 1350 karats and that's not all. There are 50 karats worth diamonds too.
In 1989 to commemorate the 50th anniversary of the Hollywood classic The Wizard of Oz in the grandest way possible, the House of Harry Winston revealed a replica of the famed Ruby Slippers.
It took two whole months to finish this opulent shoes, the most expensive in the world. With $3 million price tag, these ruby slippers outshine the original, which were created using plain red sequins.
2.Debbie Wingham High Heels – The most expensive shoes for $15.45 Million
The stiletto heels are encrusted with precious metals and rare stone. Wingham is famous for her opulent creations and has worked for many celebrities, royals, and wealthy elite over the course of her career.
Her latest creation is a collaboration with Florida-based contemporary artist Chris Campbell. Wingham contributed the design while Campbell crafted the shoes over hundreds of painstaking hours.
The body of the shoe is crafted from platinum while the plaque is pure gold. The shoes also feature solid gold zippers and soles, leather painted in 24 carat gold paint, and the stitching done with 18 carat gold thread. Inside, the shoes are adorned with gold thread inlay. The shoes were finished with a rose gold accent to give slight contrast. Leather Arabian jasmine flowers are the final touch.
Debbie Wingham said "Many of my clients have valuable pieces of jewelry that live in a safe and are only worn once or twice in a lifetime; by using their precious gems to design a bespoke piece of art, I can create something that can be admired on a daily basis."
The opulent shoes were ordered by an unnamed family in Dubai to mark a special birthday.

1. Jada Dubai and Passion Jewellers Passion Diamond Shoes $17 million
The pair, created by the UAE-based brand Jada Dubai in collaboration with Passion Jewellers, is the most expensive shoes in the world. Launched at the Burj al Arab Hotel in Dubai, a temple to luxury in itself. Jada Dubai a footwear brand known to create art through jewel adorned footwear, which often features precious or semi-precious stones to achieve elegance and grace.

The stiletto soaked in gems, is made of gold, leather, and silk. It features 236 diamonds as well as a 15-carat D-flawless diamond near the toe.


"There will be only one pair of The Passion Diamond Shoes in the world. We had to prototype many shoes in Italy in order to find the perfect shape, perfect heel, the perfect colour for it. Even inside, the logos of both companies are made out gold, which is very thin so it will be very comfortable for walking,"


Maria Majari, the co-founder
This pair truly deserves to top the list of the most expensive shoes in 2019.