Man cave. The very mention of that term evokes some primitive imagery. It makes one think of something out of the prehistoric. But what exactly is this fabled man cave? And, what man cave ideas are the best?
The Meaning.
In a modern sense, a man cave refers to a holy sanctuary that you can create inside your home to provide you the utmost relaxation and joy. There are many different man cave ideas to choose from. You can make it an ultimate theatre, a gaming corner, a luxe bar, or even mix all of these to create something greater!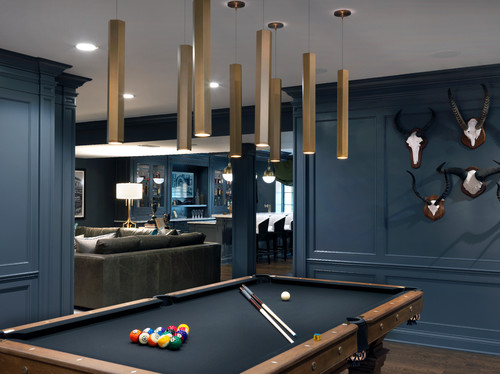 Photo by Rae Duncan Interior Design | RDID – More basement photos
Whatever form it ends up taking, it should be something that provides you immense happiness whenever you are there. You don't need to cater to anyone else in this place. You can customize it as you like. Make it as convenient for you as possible. After all, all man cave ideas are meant to achieve a single goal in the end: comfort and joy.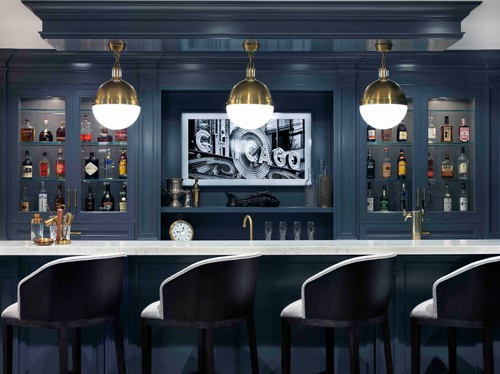 Photo by Rae Duncan Interior Design | RDID – More home bar ideas
Now, you may say that isn't a big tv on the wall and a nice desk with a PC in your bedroom good enough? Well, they can be a man cave if you are satisfied with it. But that really isn't good enough to join the ranks of the real ones. Now, this doesn't mean that all your man cave ideas should be outlandish and crazy. Neither should you start to knock down every wall in your home to claim your holy ground. It is all about making the best of everything available to you, and if it takes knocking down a wall or two, that is fine. Just be responsible while doing so!
Man Cave Ideas.
Most of the time, when a man cave is mentioned, people mostly think of it as the ultimate media consumption setup. While that is one path you can take, I don't believe you are a person with just a single hobby. Therefore, you really should not limit yourself to a handful of man cave ideas.
Maybe you like consuming alcohol while watching movies or sports. Why not incorporate a mini-bar alongside your recliners, speakers, projectors? You may also like popcorn. Well, add a popcorn machine in the mix as well! Maybe you just like staring at the setting sun or the night sky from your balcony. Well, adding some speakers to listen to some serene music sounds like a good idea. Better yet, why not mix and mash these man cave ideas and have a mind-blowing mini-bar in your balcony alongside those speakers and perhaps a mini-kitchen!
After all, it is all about making a space that you can genuinely feel peaceful in. Now, we need to recognize that overmixing these man cave ideas may result in an overall detrimental experience. Hence, it is always advisable to focus on a few key themes and roll with them. After all, too many ingredients will not only spoil the broth, they will also make you sick.
How To Choose Your Theme?
Depending on what kind of an individual you are, it may either be the easiest or the hardest thing in the world for you. The world is a charming place full of people with various likes. However, the desires of humans are endless, while the resources to fulfill them are finite. Similarly, the pool of man cave ideas is also infinite, but in the end, it is up to you to shape it according to your sensibilities and make the options finite.
Here is an easy way to go about conceptualizing your man cave ideas. Always start with your favorite hobby. For example, having friendly and accessible bookshelves in your man cave might be a good idea if you like reading books. Next, you need to select the books. Just because you are an avid reader, it doesn't mean that you enjoy every book under the sun. Therefore, here as well, you should prioritize the things you like first.
After that, you need to consider the furniture of the room. Many man cave ideas fall short in this category. Most of the time, people blow their budget on equipment, decor, and other materials but overlook one of the most critical aspects. So, it would be best if you always chose furniture that will give you the utmost comfort. Let's say, in this case, you opt for a recliner and a foot massager. Throw in some excellent paint on the wall and maybe a coffee/tea machine, and it will be a book reader's heaven. You should buy a decent noise-isolating headphone too, while you are at it!
Keep Costs In Check.
Let's go back to our earlier example of an ultimate entertainment setup. You may think that your man cave needs to have an 8K projector with a bespoke screen and a Dolby surround setup. Perhaps you also want a nice recliner and a beastly gaming PC to run all those high-fidelity modern games with good performance. Since it is intended to be comfortable, maybe your man cave ideas will also include an air conditioning system and in-floor heating. It is the best place in your house after all.
But, just hold on for a second and think. Do you really need all of those things? Sure, you may have a lot of hobbies, but trying to cater to every one of them will end up being too costly too quickly. So, what does one do in this predicament? It is easy! Instead of having a no-compromise attitude towards everything, spend big bucks on the most things you will interact with. Now, that does not mean that you should cheap out on everything else and risk turning the entire thing into one of the worst man cave ideas.
It is more about balance. In this case, you will probably be better of investing more into your seating if you plan on spending a good chunk of time in the space. Similarly, if you watch movies more than you play games, you should spend more dollars on the projector and screen setup. Even a mid-range gaming PC will provide you a good gaming experience. Or, if you aren't picky, then you can buy a gaming console instead. They are a primary part of many man cave ideas for a reason. In fact, you will probably be able to buy two different consoles for the price of a PC. (No PC vs. Console wars, please. Both are wonderful and have their place.)
Avoid These Traps.
After reading through all these different man cave ideas, you may notice a pattern. And, you will be correct. Priority is the keyword here, folks. Don't build out your man cave as an imitation of someone else's. People often remark on this endeavor after seeing an Instagram pic or a youtube video. These people are often misguided by these videos, which instill a false sense of need in them. After all, it is not necessary that an 88-inch TV will complement your setup the same way it complimented someone else's.
If anything, you should only watch these videos to get inspiration from their man cave ideas. Once you know the direction, you should forge the path according to your reality and make the best out of what you have. For all you know, instead of that buying that big TV you are so envious of, buying a VR headset like the Oculus Quest may end up being the superior choice. Getting a giant screen projected on your eyeballs is relatively easy in VR, after all.
Some Interesting Concepts.
Now that we have all the precursory info out of the way, it is time to look at some really unique concepts. Who knows? These man cave ideas may have the missing ingredient that you were searching for all along!
Liked reading the article? Then, you should read about this Transformers ultimate collection that you can add to your man cave!