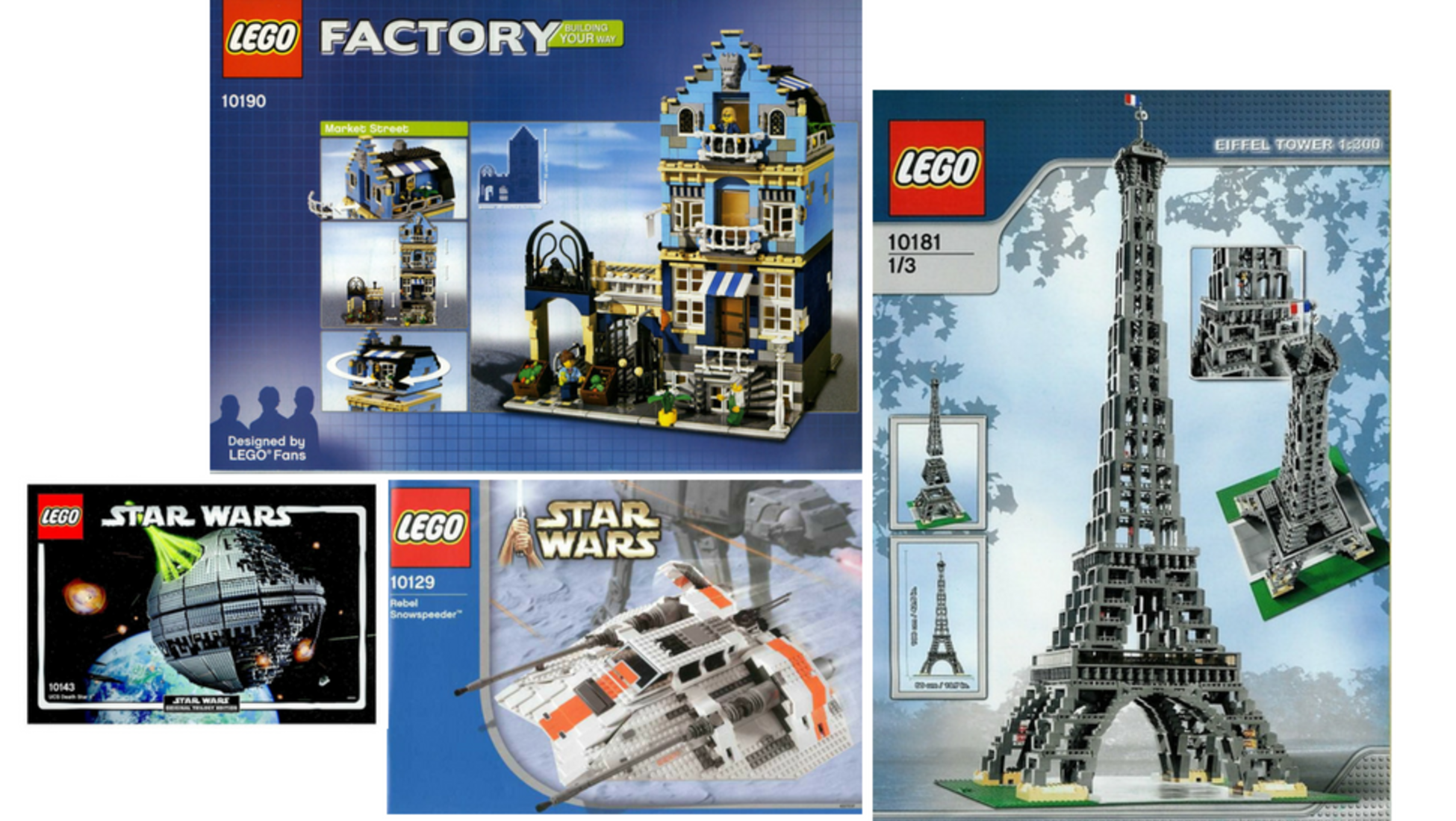 Lego is more expensive than its competitors on the market because of its higher quality. It pays licensing for sets that are linked to blockbuster brands such as Star Wars. And that cost is directly passed on to consumers, making those sets the most expensive Lego set.
Why to buy Lego Set

👏 Learning through play 🙌… we are 💯% on board #WednesdayWisdom pic.twitter.com/g84c15s67V

— LEGO (@LEGO_Group) October 17, 2018
Lego products are a great investment for collectors worldwide. To them buying Lego products is a better financial bet than buying stocks. Lego products are always very popular, mainly because the bricks and minifigures are pretty much indestructible, and buyers from all over the world are forever looking to expand their collection. For me, or rather for any Lego lover, the products are timeless and are fun to play with.

61 years ago today, a very special patent was signed – and the LEGO brick was born. Oh, how time flies when you're having fun! 😊 #HappyBirthdayBrick ❤️ 🎉🎂 pic.twitter.com/8jo7j8qCGp

— LEGO (@LEGO_Group) January 28, 2019
A sneaky peek behind the scenes – but maybe not in the era you were expecting… 😉 Happy 61st birthday LEGO brick! 🎉 pic.twitter.com/2p3D9YNDZ4

— LEGO (@LEGO_Group) January 28, 2019
I remember the thrill when finishing a difficult LEGO set. The long stare of appreciation of all the hard work that went in. Now, Lego not only lets us enjoy the thrill of building, but also have a unique way to decorate home with the finished product. Buy yourself a Super Star Destroyer set or the Taj Mahal, and you'll have a fantastic addition to your living room!
For me, Lego is a great way to create memories which can always be cherished. Everyone loves Lego so it will provide a great sense of nostalgia later in their lives. Also, there is the thrill of collecting that makes buying the most expensive Lego set worthwhile.

🤓 Only a few grey elements were produced in 1978 as the company didn't want to encourage kids to create realistic, war-related models. 🤓 #LEGOFacts #TBT pic.twitter.com/28jWEhxLUr

— LEGO (@LEGO_Group) February 7, 2019
Fun Fact
To find out which set brings you the joy and helps create your own unique collection, here's the top 5 most expensive Lego set to navigate through your buying decision.
5. 10030 Imperial Star Destroyer

10030 Imperial Star Destroyer is a Star Wars set released in 2002. It is an ultimate collector's series set. At the time of release it was the largest set (in size) ever created until 10143 Death Star ll came out.
This set is a model of the Imperial Star Destroyer ship from Star Wars and includes a Lego minifigure of Darth Vader, a hologram of Emperor Palpatine and eight synchronised cannons! It has altogether 3,104 pieces.

We're celebrating #StarWarsCelebration like it's 1977! 🎉 See how the iconic #StarWars: A New Hope poster was re-imagined in LEGO form. #LEGOStarWars @starwars pic.twitter.com/1vRY2KG9P1

— LEGO (@LEGO_Group) April 14, 2019
#LEGOStarWars is turning 20 and the party is happening at #StarWarsCelebration 2019. See behind-the-scenes as the large-scale anniversary model is created. @starwars pic.twitter.com/1ABdSoUCpF

— LEGO (@LEGO_Group) April 13, 2019
This most expensive Lego set retired in 2008, and was the first set to have over 3,000 pieces. For the first time ever the recommended age of this Lego set was above 16.
If you bought the set in 2002, it would have costed you around €250, but nowadays these vintage Lego sets sells for €1,800.
4. 3450 Statue of Liberty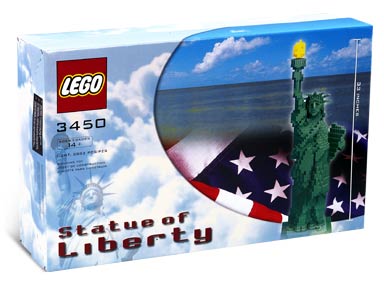 This most expensive Lego set is an iconic set to own. This Sculptures Lego set is a great way to introduce your kids or students to the history of America's struggle for freedom.
Approximately 2 feet,10 inches tall statue, the Lego box comes in two versions; a coloured one for retail stores and a black and white one sold directly by the Lego. Putting them together is a challenging task that demands all your faculties, but the final result of this completed Sculptures Lego set will really make you feel proud.
The Lego 3450 is accompanied with a graphic guide book that takes you through the detailed steps of construction so you are never helpless. You can keep this humungous Statue of Liberty as a showpiece and impress anybody who comes for a visit.

At the time of its release, it was the largest Lego set ever produced. This Lego set contains 2,882 parts and all of them are sand-green bricks. This was the first Lego set entirely made of Sand Green
The price for this set was originally worth €170 in 2000, but can go up to €1,900 these days depending on used set and the untouched version.
3. 10179 Ultimate Collector's Millennium Falcon

Perhaps every LEGO collector's dream, this model is the largest Star Wars set ever made and second largest set after the "Taj Mahal".
The most expensive Lego set is a 5,195 piece classic Star Wars released in 2007. It includes Lego minifigures of Obi-Wan Kenobi, Chewbacca, Princess Leia, Luke Skywalker and Han Solo. It has been designed to be to scale with the minifigures, unlike most other ultimate collector's series sets.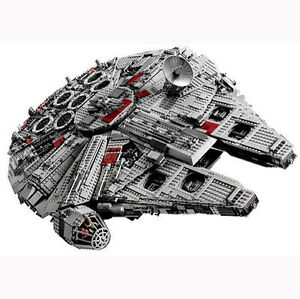 The one, the only, the undisputed fastest hunk of junk in the galaxy … ish. 😋 @StarWars #LEGOStarWars #StarWars https://t.co/xyOGmDPqSP pic.twitter.com/U40v8mO7P7

— LEGO (@LEGO_Group) June 14, 2018
The model is very intricate in detail with many special SNOT (Studs Not On Top) techniques involved in the front "mandibles", mimicking Star Wars technology and architecture.

Introducing the LEGO Kessel Run Millennium Falcon from Solo: A Star Wars Story. Landing April 2018! @starwars #HanSolo pic.twitter.com/HwuB9nBSmd

— LEGO (@LEGO_Group) February 14, 2018
The first copies of this set sold through the company's website received a special first edition certificate of authenticity. Owing to its popularity, this set was redesigned and released in 2017 as the 75192 Millenium Falcon. But, according to the UCS promotional poster, this set retired in 2009, but wasn't fully discontinued until 2010.
This is the third most expensive Lego set and is the largest Star Wars set. In fact, in 2011 the Lego officially held a contest to win a first edition UCS Falcon.
This legend was originally worth €450 at the time of release, but now it's valued at €2,200.
2. 10196 Grand Carousel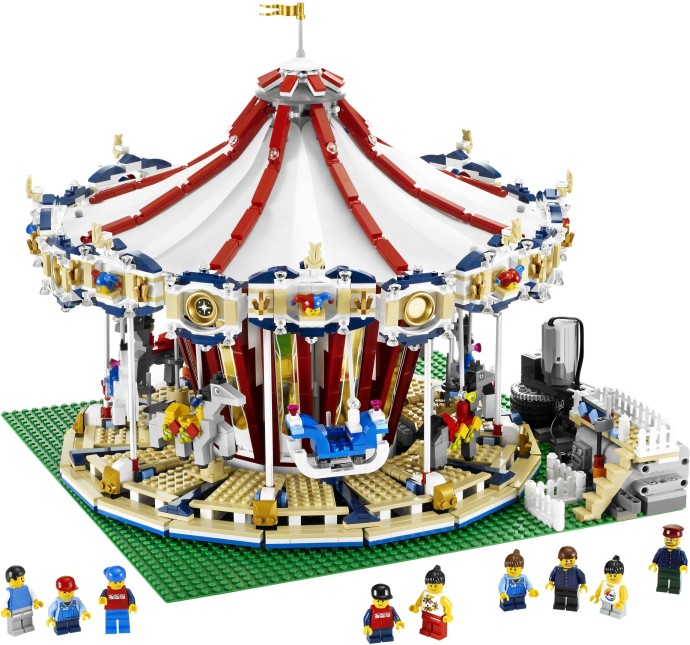 This beautifully designed Lego model isn't just for show! It really spins and plays music while the horses and swing boats move up and down.
Released in 2009, it is built with intricate, lifelike ornaments & features, the Grand Carousel is a spectacular addition to any Lego display or carousel collection. The unique feature of this most expensive Lego set is that it's electricity powered. When assembled and powered up, the Grand Carousel spins and plays melodies. It contains 3,263 pieces, including nine minifigures and intended for children 16 years and above.

The Lego Creator theme has elaborate building designs that will impress and challenge the imaginations of the most creative of builders. It offers lots of fun building experiences to encourage creativity and problem-solving skills. The box of 3,263 Lego bricks can be used on any construction project a child wants. Lego brand bricks, characters and building sets are all compatible with one another.
The Lego set with minifigures and motors that allow the sculptures to move and play music was originally worth €222.28, a used set now goes for €1,721.35, while an untouched version is worth €2,173.41.
1.10189 Taj Mahal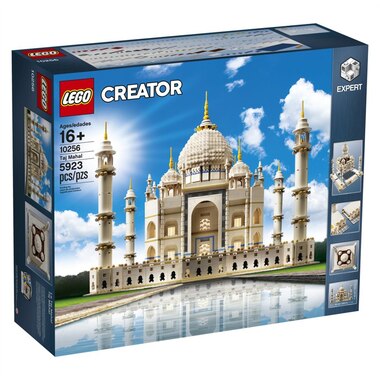 The "Taj Mahal" Lego set is the largest and the most expensive Lego set ever made. It contains a large model of the iconic Taj Mahal, and is intended for children aged Fourteen and above.

The biggest LEGO set to date is the 5,922 piece Taj Mahal but, brace yourself! The newest LEGO Star Wars set is 1,619 pieces bigger! 😲 pic.twitter.com/seRy9UMxlv

— LEGO (@LEGO_Group) August 22, 2017
After the 75192 Millenium Falcon, and the 71043 Hogwarts Castle, it is the third biggest production set Lego ever produced. Based on the white marble structure that was built at Agra, India, this set is only meant for display and not for everyday play considering its large size and elegant features.


The Taj Mahal is composed of three parts – the dome, a mid section and a square plinth, that can easily be removed from each other. The square plinth is composed of several bright blue baseplates. On each corner of the square plinth are tall columns that are topped by a dome. The symmetrical building is formed with arches and bricks with an arch shaped doorway that is topped by a large dome and finial.
The famous Taj Mahal of India is known all over the globe for its incredible beauty and elegance. Now you can recreate this modern wonder of the world all by yourself! Designed for experienced builders, the Lego Taj Mahal model features advanced techniques, rare elements and colours, and realistic details of architecture. With over 5,900 pieces, the Taj Mahal makes an awesome addition to any Lego collection!

#LEGO® re-launch of the Taj Mahal set 10256 in 2017! #LEGOCreator #LEGOCreatorExpert #AFOL #LEGObricks #VintageLEGO #CollectibleLEGO #CollectibleToys #SP500 #stocks #instafollow #legoinvesting #legoresaleprices #LEGOClassics #LEGOblocks #top10LEGO https://t.co/7IIElkMe0G

— brixinvest (@BrixInvest) June 24, 2018
The Taj Mahal model was released in 2008 for above €250. A used set can change hands for €1,185.97, while a new box is worth €2,546.21.