Following the release of the Tank Pool Float with Todd James, Case Studyo partners with Japanese illustrator Hajime Sorayama for a limited edition figure, The Midas Touch.
Todd James released one of his iconic characters as an inflatable for your pool time enjoyment. The Tank Pool Float, available through Case Studyo.
Case Studyo is a publisher and producer of artworks by contemporary artists. It produces and published artist series – art objects, furniture, lifestyle and functional objects by contemporary artists. It has produced some of the most memorable editions in the art world.
And Hajime Sorayama is the Japanese illustrator whose "sexy robots" and Star Wars concept have earned their place in some of the world's most prestigious galleries and art museums.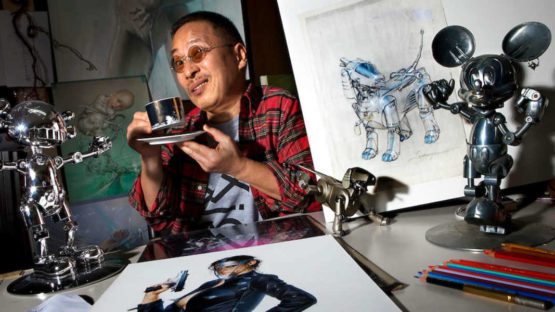 Sorayama, in conjunction with his Nanzuka Gallery, has teamed with Case Studyo on a limited edition, gold plated middle finger, titled The Midas Touch. 
Referencing King Midas from Greek mythology — who had the ability to turn everything he touched to gold — the piece serves as a follow-up to Sorayama's A Touch of Mercury from 2018.
According to Case Studyo, "With this edition the Japanese master revisits his 2018 collaboration  'A Touch Of Mercury', using the most precious of metals to deliver a raw and powerful statement. 'The Midas Touch' not only explores the relationship between artist and audience, but also delves into the intimate and complicated relationship of creator and creation. The sculpture's obscene gesture constitutes a small revolt and playfully touches on the fear of an inevitable clash between man and machine. Sorayama's sexy robot seems to have turned against its creator and reminds us all that technology can be tantalizingly beautiful but also ruthlessly cold."
Standing 13 inches tall, Case Studyo and Hajime Sorayama's gold-plated porcelain figure comes in a custom wooden box with foil print, each signed and numbered by Sorayama. The Midas Touch is limited to 100 units, available through Case Studyo.