A tattoo is one of the most ancient forms of body modification, where ink or a dye is injected under the skin to produce striking images. Throughout history, tattoos have been used in all sorts of ways, from medical to theatrical. Tattoos are generally intended to express an idea or emotion of either the artist or the person getting the tattoo. Warlords, shoguns, knights, and emperors have all been fond of this artform and have used it to express their power and status. A sleeve tattoo is just one of the many recent tattoo trends that have been gaining traction.
These days, many rich and famous people choose to wear their personalities on their sleeves via a tattoo. A sleeve tattoo is preferred because of its intensity and intimacy compared to other tattoos, as it is displayed prominently on the body. Whenever we come across someone with a full sleeve tattoo, the first thing that draws our attention is the ink adorning their arms.
What is a sleeve tattoo?
As the name suggests, a sleeve tattoo is just that – a tattoo covering your entire arm like a shirt sleeve. However, not all sleeve tattoos are equal, and they are categorized further by the amount of area they cover.
Types of sleeve tattoos.
You have four options to choose from when it comes to a sleeve tattoo.
The first is the quarter sleeve, where the sleeve tattoo only covers the surface halfway from the elbow to the top of the shoulder.
The second type of sleeve tattoo is the half sleeve, where the tattoo is large enough to cover half of your arm from the shoulder to your elbow.
The third type of sleeve tattoo is the full sleeve. This one is large enough to span your entire arm.
The last type of sleeve tattoo is the Hikae. It is a Japanese-style sleeve tattoo that extends from the chest to either the elbow or the wrist.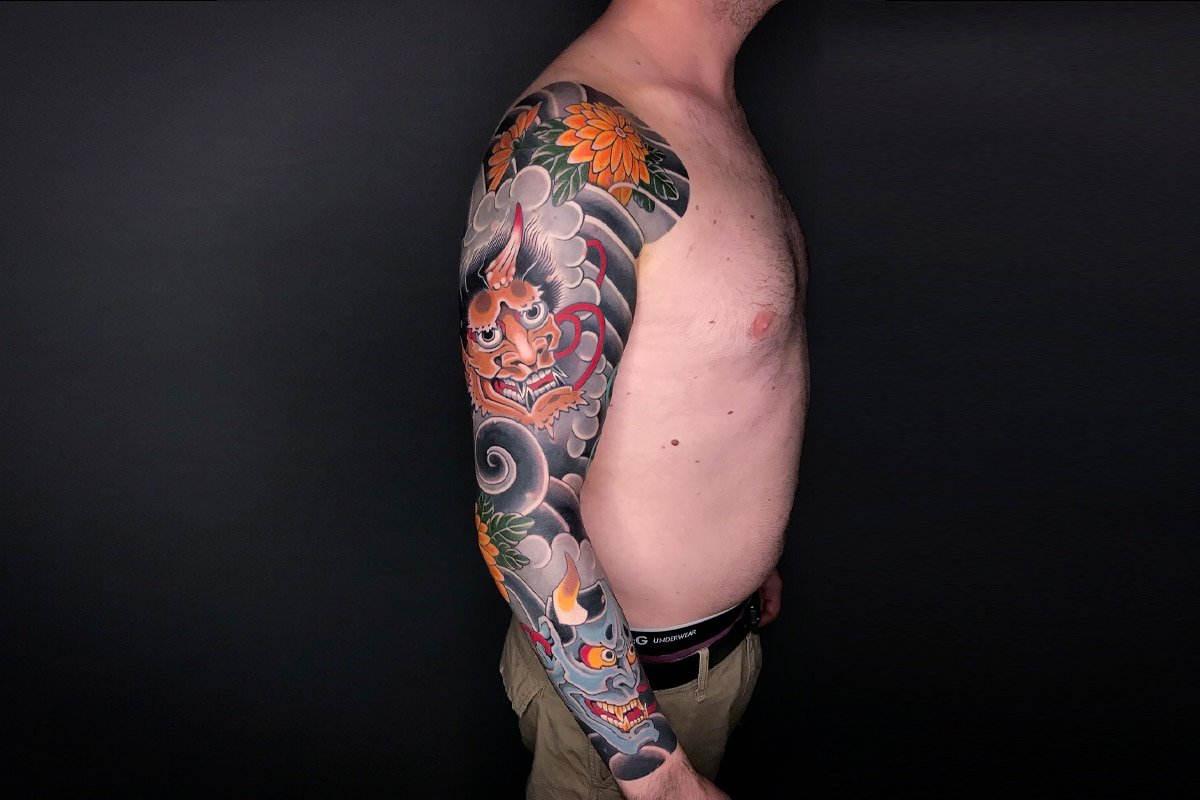 Things you need to consider before getting a sleeve tattoo.
Like all tattoos, even more so, you should consider everything before getting a sleeve tattoo. Not all workplaces or people are friendly with tattoo-bearing humans. Plus, getting a tattoo that you might not jive with down the line is a sure-shot way to disaster.
Therefore, one should do a lot of research before settling upon the theme and style of sleeve tattoo they wish to proceed with. NEVER choose a random image off the internet or a short-lived meme for this, as you will regret it. The other thing to be careful of is the tattoo artist you select for this process. Depending on their skill level and experience, good tattoo artists may be more expensive, but that is not where you want to cut corners. Treat this event with the utmost respect since you will be living with the ink for the rest of your life.
Another thing to consider before getting a sleeve tattoo is the time it will take for you to have a finished one. Sleeve tattoos are usually much more elaborate and may end up taking days to weeks to be completed. Another reason you must carefully think about what you wish to get tattooed is the hours of pain that may end up wasted if the result is unsatisfactory. During the tattooing process, you must not disturb the artist as it might also worsen the tattoo. Always ensure to communicate your vision clearly and then let the artist do all the work.
Things you need to do before getting one.
It would be best to shop around for talented artists who can do justice to your sleeve tattoo. After you have picked an artist, please don't force them to follow your rigid design. You may think that your idea is the best, but it won't matter if the artist cannot execute it properly. Every artist has their flair, and it is essential to know what works for you. Always pick an artist based on their quality of work and not the price they command.
The next thing you must do is you need to look at a lot of different styles. Do not skip this step, or you will always live with buyer's remorse. Look at every possible permutation and combination to find your perfect sleeve tattoo, and then pull the trigger. Also, don't just go for a cool-looking mural. Decide on a theme first and then stick to it.
You also need to carefully consider the colors you choose for the tattoo, as a rainbow puke may look good for the first few months, but it can get old quite quickly. Pick the sleeve tattoo's placement in line with your pain tolerance, and always discuss everything in length with the artist, so both of you have an understanding of what the other person wants.
The time it takes to get a good sleeve tattoo.
On average, it takes 10-15 hours to complete a good sleeve tattoo. This time is divided over multiple sessions that can span up to months. It may take even longer if the tattoo you are planning to get has many intricate details.
A single sleeve tattoo session will take approximately 3-6 hours, but that too is entirely dependent on your pain tolerance and both your and the artist's patience. People usually take a gap of a couple of weeks in between sessions, but there is no shame in taking more time if your body takes longer to heal.
You will also need to take ample care of the tattooed area between the sessions and after the tattoo is complete. You absolutely don't want this life-changing sleeve tattoo to end up in a life-threatening infection.
The price of a sleeved tattoo.
While the final cost will depend on the intricacy of the tattoo and the time it took, on average, tattoo artists charge about $100 per hour. In the case of a full sleeve tattoo where the tattoo will span different areas of the arm, each with its unique challenges, the cost can end up in the $2k – $5k range. For half or quarter sleeve tattoos, the price ranges from $500 – $2K.
You can visit this website for more details regarding the pricing of sleeve tattoo(s) and other tattoos.
Why you should consider a sleeve tattoo.
From singers like Adam Levine of the Maroon 5 to famous YouTubers like PewDiePie, each one of them sport a sleeve tattoo to communicate their personalities in style. While getting a sleeve tattoo is a big commitment, it can be one of the defining factors of your personality if pulled off correctly. It may even affect your daily interactions in a meaningful way.
Plus, for me, there is nothing more badass than a majestic sleeve tattoo to let everyone know that I'm not someone to be trifled with!
So, what are you waiting for? Get one now! You can also read this article by Man Of Many to get some good ideas for your tattoo.
Now that you are all inked and ready, you should read about this million-dollar pen that you can use to sign your billion-dollar deals!