In a rather surprise move, world's leading crystal and crystal jewellery Austria based company Swarovski has ventured into Lab-grown diamonds. The renowned company's venture into diamonds comes through its new brand 'Diama.'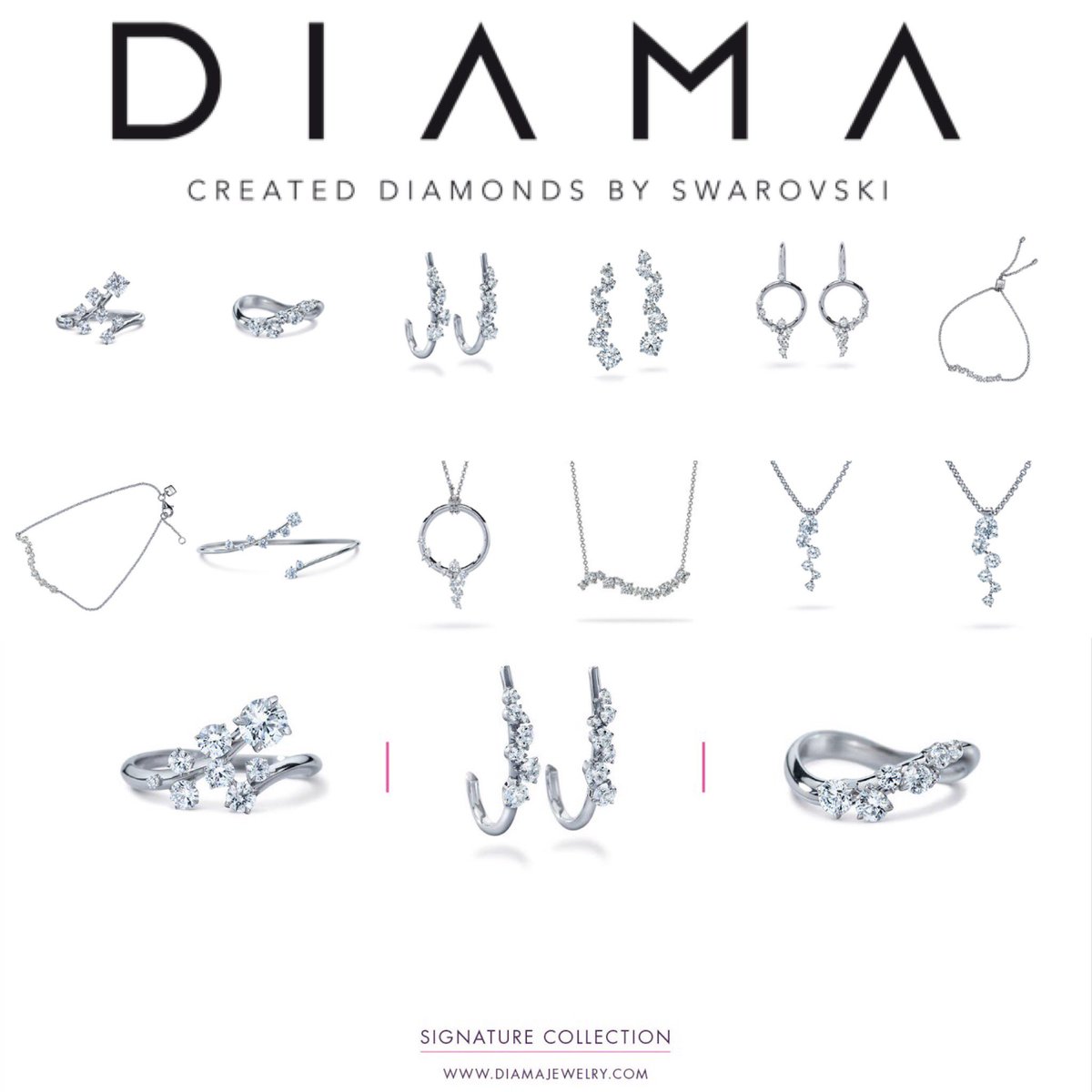 According to Swarovski, 'Diama' is a combination of 'Dia' and 'Ama' which means Diamond and Love respectively. This brand will be set in 18k gold and at least for now all the diamonds weighs less than 1 carat. It is reported that the Diama jewellery will be priced around 50% less than similar Earth-mined diamonds. It initially includes rings, bracelets, necklaces and earrings and is available at limited physical stores in US and with some online retailers too.
A little background to Swarovski's Diama
Nadja Swarovski, the great-great-granddaughter of Daniel Swarovski, the company's founder, knows that the decision to use lab-grown diamonds in a new line of Atelier Swarovski fine jewellery might surprise people. But as she says, it's actually quite consistent with her great-great-grandfather's mission when he started cutting crystals in 1895. "He wanted all women to experience what it felt like to wear diamonds," she explains. If real diamonds were too expensive, then finely faceted crystals were a good alternative.
She has decided creating diamonds in a lab that are bio-identical to the real thing. "They use little energy to produce, and they don't affect people or the planet," she said at Fortune Most Powerful Women International Summit in London. "It is truly about better ways," she later added.
Swarovski Created Diamonds by Diama
Nadja said that even though Swarovski is known for manufacturing crystals, its infrastructure is more than primed to support the cutting of other materials, too.
Why Swarovski crystals are expensive?
Well, it's the superior production, materials, cutting, and polishing what sets Swarovski crystals apart from other glass works. According to Swarovski, "Cutting hard materials such as crystal and gems, in such a way that they have a hundred identical facets in several directions, is a very complicated task; each direction of the reflected light must first be calculated by computer, then this has to be simulated in 3D, optimized and finally converted into control programs for complex machinery."
Diamond industry in early years
For most of the twentieth century, the diamond market was entirely controlled by one company: De Beers. Total control of the industry meant that De Beers set diamond prices. This monopoly no longer exists, and today diamond prices are driven by supply and demand. But De Beers still continues to be a dominant player in diamond industry. It is in fact the household name, the standard against which all other diamond manufacturers are measured.
With the announcement of Swarovski venturing into lab grown diamonds, it has made major players in the diamond industry "very worried." In response to this, De Beers has launched its own line of lab-grown diamonds.
The future of Diamonds
'Diamonds are a girl's best friend,' a phrase and song made famous by the 1949 movie Gentlemen Prefer Blondes in which Marilyn Monroe first performed the song. Today the saying is very much true, but traditionally gold bands were used for the symbol of a wedding union until 1938 when DeBeers launched their advertising campaign "A Diamond is Forever". The ad campaign is regarded as one of the most successful in history and changed the general public's perception of diamonds.
DeBeers ad campaign – 1938
Nowadays Diamond engagement rings are not only glamorous they have a very special meaning attached to them, they symbolise commitment and the next chapter in a couple's life, which combined with their beauty is why they are so desirable. For years the price of diamonds were kept artificially high by carefully controlling the quantity of diamonds that were allowed to reach the market place by one company who had a monopoly over their distribution.
Today this is no longer the case as diamonds are available from various channels around the world where their price is governed by globalized market economies. There is still a growing demand for diamonds and with their diminishing supply and extremely high costs other less expensive substitutes are used in their place.
Lab-grown diamonds becoming part of everyday life is inevitable and Swarovski has realized this pretty much early in the game to garner the early-mover advantages.
My Thoughts
The lab-grown diamonds are shaking up the world of fine jewellery. Cheaper and more ethically conscious, synthetic diamonds are proving a tempting proposition for millennials. And sales of these diamonds could eclipse mined diamonds in coming years.