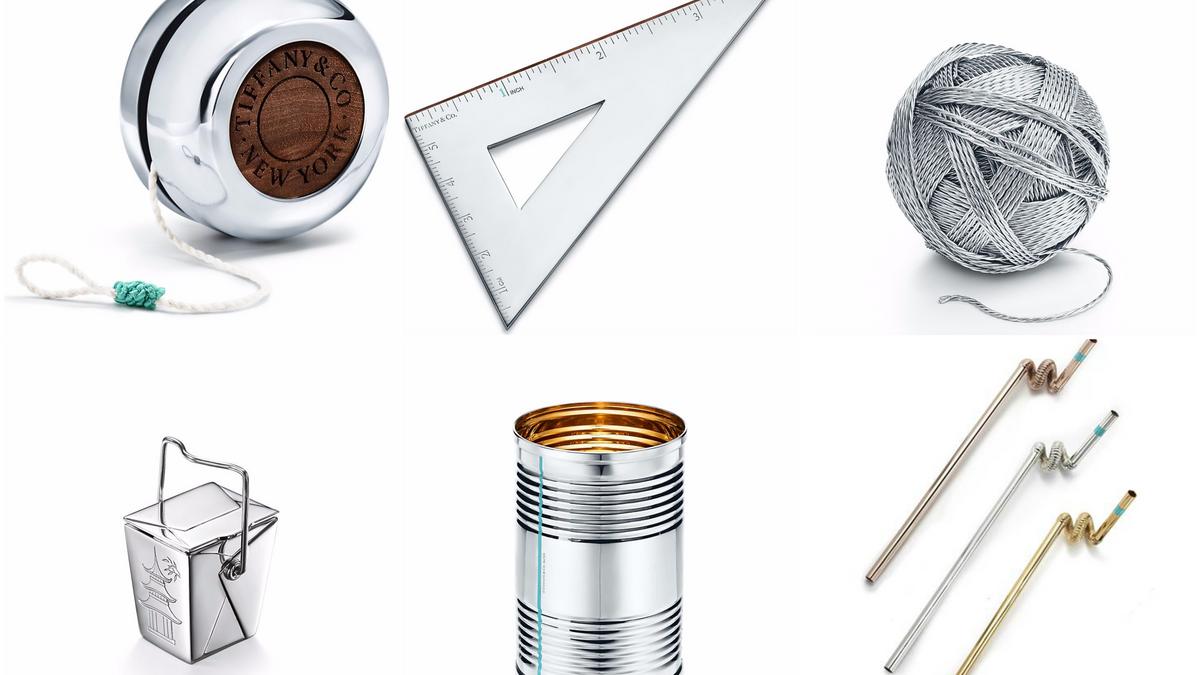 Tiffany's "everyday objects" collections – make the mundane Magnificent

Tiffany started as "Tiffany, Young and Ellis" sold a wide variety of stationery items initially. Later during the years, the firm's emphasis shifted to jewellery. It is now renowned for its luxury goods, particularly known for its diamond and sterling silver jewellery.

The tale of Tiffany's
Tiffany boasts of a history of product innovation for many years. Go anywhere in the United States and the word Tiffany will be used synonymous with quality. The brand penetration is such that you find everything Tiffany, and probably a little baby named after the brand too.
Tiffany & Co.'s "everyday objects" collection has ordinary items beautifully designed to feel extraordinary. "Everyday Objects" section on its website sells silver and gold versions of "household" items, like balls of yarn and porcelain eggs, for thousands of dollars.

The average Tiffany customer can afford to pay a premium for luxury. Perhaps that's the reason why the company has introduced this collection for its target group.
The "Everyday Objects" collection is a range of items like $95 paper cups, $1,000 tin cans and $275 pencil sharpeners, each one made with materials like sterling silver and gold with an absurd price tag to match.
"I think what makes the collection unique is that it incorporates the best quality, craftsmanship and design with a level of functionality that allows you to use these things every day," Reed Krakoff, chief artistic officer at Tiffany & Co said in a statement.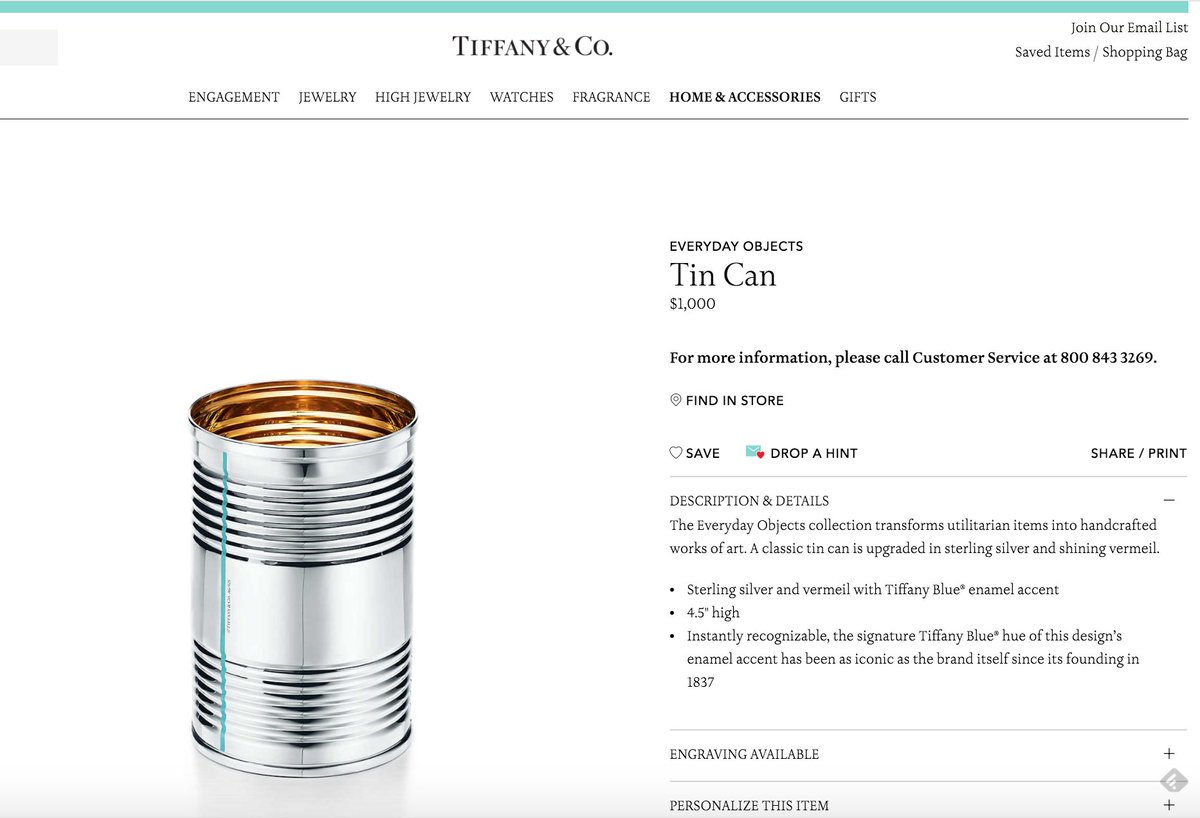 Why not give your outdoor space an instant image makeover with pots, and plants. Starting a greenhouse nursery is a good way of expression of love towards nature. House plants are not only interior decor living accessories but improves the air in your home.
If your home wasn't blessed with tons of square footage, that doesn't mean you can't flex your green thumb. Make your home a plant paradise with Tiffany's Greenhouse- all you need is a small space, and a big heart!
Tiffany's "everyday Objects" collection, makes gardening experience classy, elegant, and luxurious enough to indulge in each day. Just stock up on everything you'll need to keep your garden in tip-top shape, and yes! You're good to go the green way.
Here's a guide to pick from "everyday objects" collection of Tiffany's.

Sterling Silver Greenhouse – $275,000
The handbag is about the size of a large handbag. A Zoolander might ask, "What is this, a greenhouse for ants?" The sterling silver greenhouse from Tiffany's everyday objects is sought after by miniature enthusiast.
The Everyday Objects collection is known for elevating objects from the mundane to the extraordinary. The line focuses on giving regular home and garden accessories an elegant Tiffany twist, using beautifully crafted sterling silver, enamel and wood to create works of art. "This unique solid sterling silver, copper and glass greenhouse was hand-assembled by the finest Tiffany artisans. Built over the course of nine months and nearly 1,000 hours in the Tiffany hollowware workshop, this luxurious design brings unexpected Tiffany style to any space. Time-honored smithing techniques and cutting-edge technology combine to transform a utilitarian item into a modern work of art."


-Tiffany & Co. website
Inspired by the new sterling silver greenhouse from our Home & Accessories collection, artist Anna Galtarossa created an exclusive display for our Piazza Duomo store windows during the #SaloneDelMobile design fair in Milan. pic.twitter.com/HCajcCuz3U

— Tiffany & Co. (@TiffanyAndCo) 16 April 2018
Terra-cotta Flowerpot – $100
Terracotta's porous nature allows for air and water to move through the walls, preventing soil disease and root rot. It makes a great environment for plants that prefer moderate to dry soil.
Terracotta pots are used for indoor plants and outdoor container gardening. Terracotta containers are great for Cacti, Succulents, and other plants that prefer drier soil.
This Tiffany Blue terra-cotta flowerpot features the iconic Tiffany & Co. seal, is not only good for plants, but also gives beauty to your garden.

Sterling Silver Flowerpot – $500
Having a green thumb has just taken on a whole new meaning. This decorative sterling silver flowerpot is ideal for taking your home and garden décor to the next level altogether.
Pots and containers are used for their ability to make their surrounding look even better as they easily stand out in the gardens. There are a lot of unconventional things that can be used as planters that will definitely highlight your garden and home. Planters gives a sort of finished look and are ideal for concealing cheap and unattractive pots. And what better than Tiffany's Sterling Silver Flowerpot.

Sterling Silver and Copper Watering Can – $35,000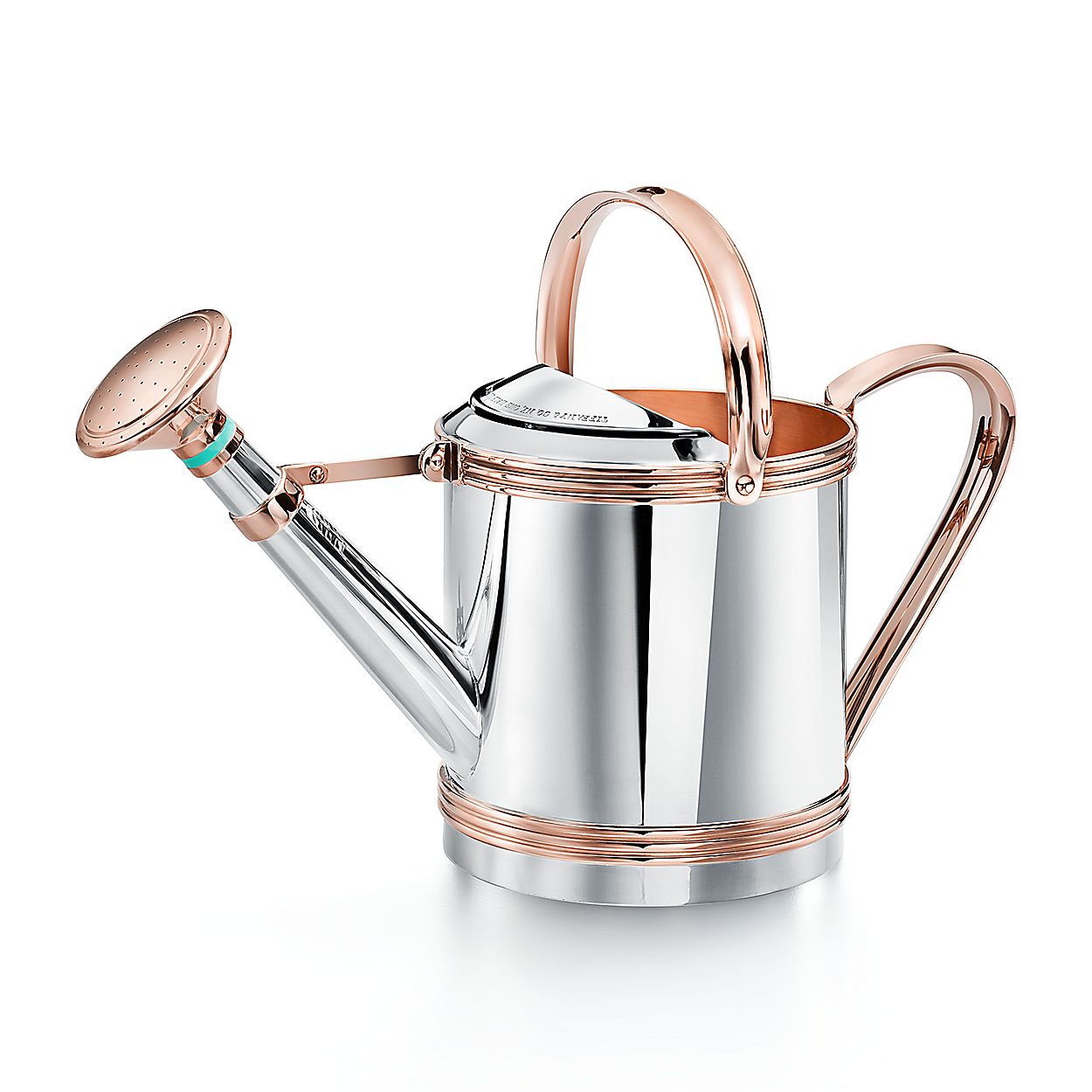 Just in case you are looking to really step up your gardening game, this limited edition watering can in sterling silver and copper is the one for you. At the whopping price of $35,000 this watering can is apt to water plants to keep them blooming.
Now water plants in style! The luxurious watering cans water plants with caution. Water sprinkled from the can is soft on the roots and prevent overflow. This way you don't end up adding more water than the soil can absorb.

Sterling Silver Herb Markers – $255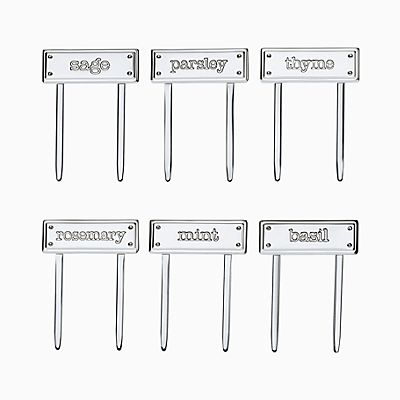 You spend a lot of time cultivating your garden, so why not spruce it up with adorable garden markers that will add a touch of cuteness and make it easy to find what's what?

Set up some of these markers and you'll never again have to wonder if you're looking at the parsley or the cilantro. Tiffany's sterling silver herbs markers surely stands out in the garden; both in durability and aesthetically.

Add a personal touch in your garden with engravable sterling silver markers. These miniature shovel plant markers are a playful way to keep track of herbs and a unique gift for any gardener or gourmet cook.
Sterling Silver Lantern – $20,000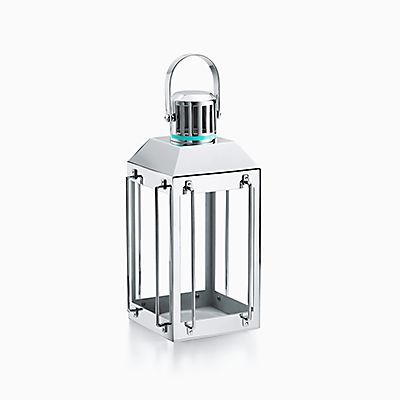 Nothing is better than soft, natural lighting while spending time outdoors in the evening hours. Lighting in the garden is really important if you spend any time outdoors after the sun goes down. Lanterns add life, festiveness, and warmth to your space in the night.
This limited edition Tiffany's Silver lantern is elevated in solid sterling silver is definitely a classy edition to your garden.