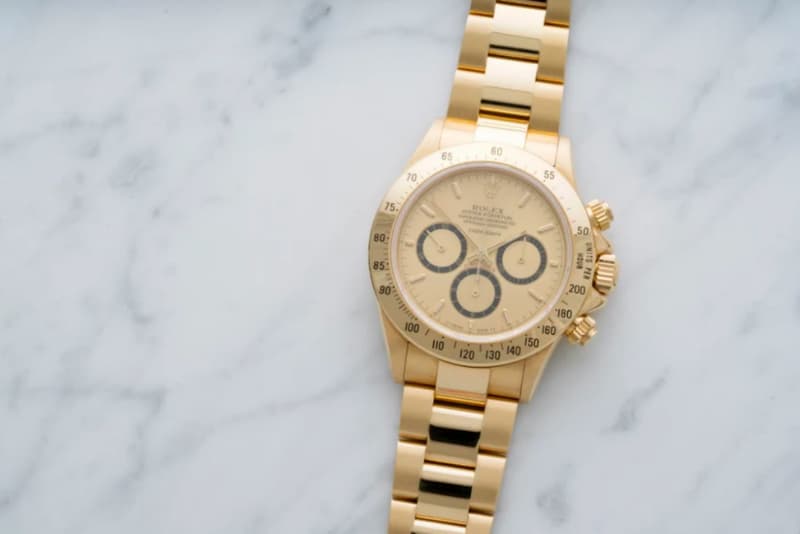 A historically-significant Rolex Daytona is scheduled to be auctioned off in Paris soon. Set to be hold by the London-based auction house Phillips, this gold Rolex Daytona was originally a gift that legendary F1 driver and three-time Formula One world champion Ayrton Senna gave to his mentor, Angelo Parilla.
F1 legend Ayrton Senna gifted his mentor Angelo Parrilla a gold Rolex timepiece with a personal inscription from him. Fast forward 40 years, the watch is now up for sale to the highest bidder at Phillips' The Geneva Watch Auction: NINE at Hotel La Reserve on May 11-12, 2019.

Manufactured in 1989, the all-gold Rolex Zenith Daytona Reference 16528 is engraved with a message "A Angelo da Ayrton 1978" which translates to "To Angelo from Ayrton 1978" at the back. Along with the timepiece, the lucky bidder who wins at the auction will also get an F1 helmet face shield that is signed by Senna which dates back to 1988.

1978 was a significant year for the Formula One driver – Ayrton Senna as he was discovered by his mentor Parrilla, who brought him to Italy to participate in the Karting World Championships. And since then it was never looking back for him.
"The present watch is not only offered in superb condition but comes with a series of accessories making it a must have for any Formula One fan including a signed faceguard of Senna's driving helmet," reads a quote from the auction's "catalogue essay." "This timepiece spans more than horology. It is part of a unique history between one of the most iconic watches in the world, the sport that the Daytona is synonymous for and one of its greatest ever drivers."
This gold Rolex Daytona model is the earliest iteration of Rolex's first automatic gold chronograph Daytona. It is fitted with a rare floating dial and Mark 1 bezel.
Recently, Ayrton Senna's 1990 F1 helmet sold for more than $168,914, making it the most expensive racing helmet ever. The previous record was held when Senna's 1991 helmet sold for $97,782 in 2012.
Expectations are high on this gold Rolex Daytona timepiece. It is definitely a must have for a collector.