Did the rain get you unsuspecting? Or maybe, you just forgot to snatch your umbrella as you exited the main door.

But in case you're in a Rolls-Royce Phantom or Ghost, you need not have to worry. That is because the company has built an umbrella compartment in the car doors.
Really! An umbrella compartment that too in a car door?
Yeah, you heard it right. As we know, Rolls Royce cars are beautiful, luxurious, comfortable, and powerful. Now they have added one more star to their image.

They have created the world's most upscale umbrella, particularly a built-in umbrella in a compartment of their car door. And the umbrella is known as Rolls Royce Umbrella…Wow!

Rolls Royce focuses on every minute detail that a traveler would ever need. And it again proved us right. It not only has an in-built umbrella compartment, but there is an inbuilt dry mechanism and drainage system as well, which dries the umbrella after use.

See! How precisely they focus on the details. They don't want their car interiors to get wet and muddy.

But the Question arises, What's the need to build an umbrella compartment in the car doors?
The obvious answer is to keep its owner and the car dry!!

A Rolls-Royce owner won't have any desire to get his invaluable coat wet while stepping out of the car. He might have to attend a special meeting or social gathering. The owner won't be a normal person like us after all, he owns this luxury car.

So, the splendid designers of Rolls Royce have looked after this issue. Well, that is the thing that we point out details!

So, Let's put some light on Rolls Royce Umbrella!
Rolls Royce considers these umbrellas a "milestone" highlight of their extravagant vehicle chain.

All things considered, Rolls-Royce takes extraordinary consideration of the umbrella as well. Astounding right?

It is not like an ordinary umbrella that needs a tap or two to indulgence open.

These sumptuous Rolls-Royce umbrellas are made out of carbon fiber. Built to flawlessness, these umbrellas are here to put your old rain shields to disgrace. They're upscale and simple to use.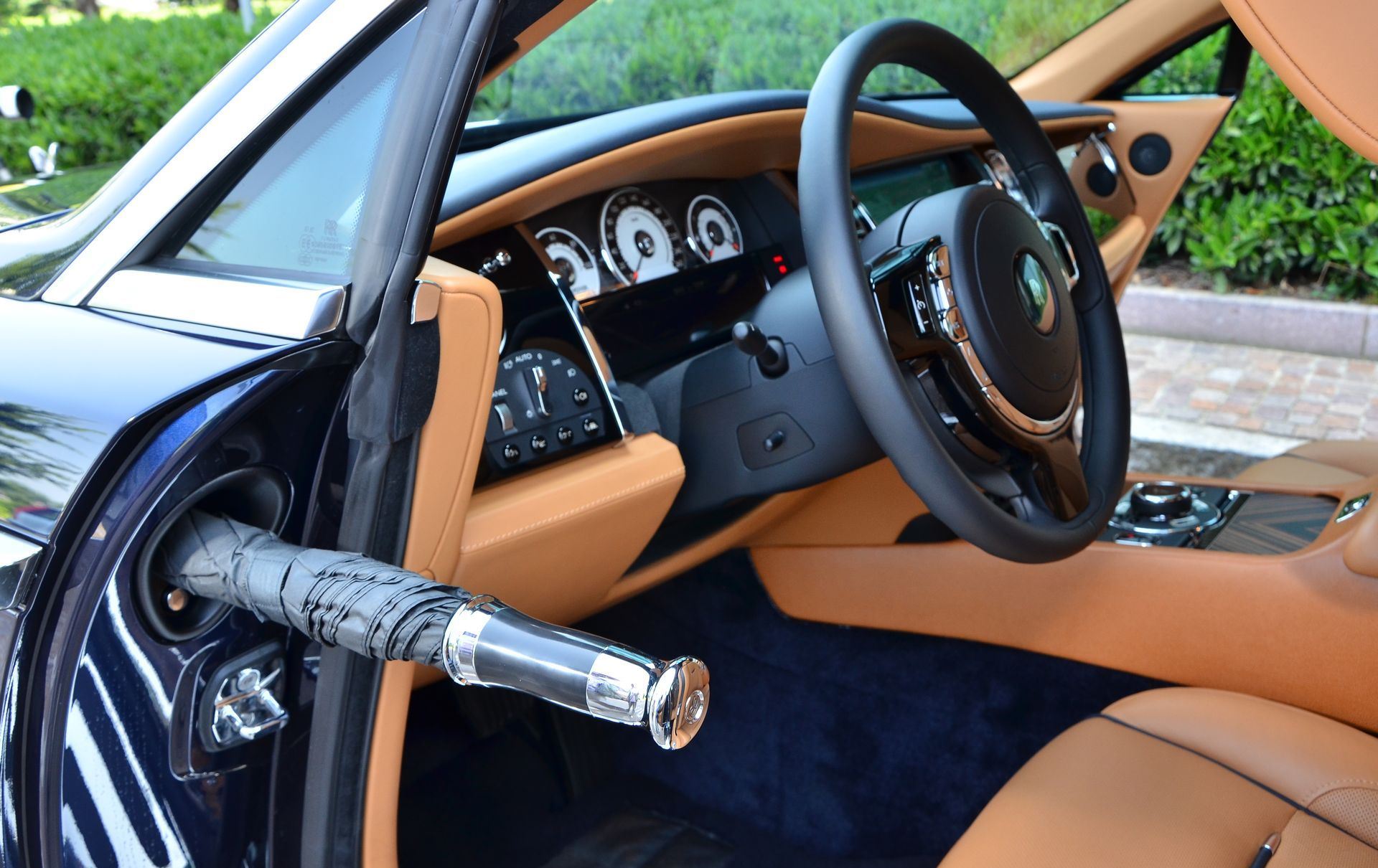 Definitely, Rolls Royce umbrella is a commendable feature added to the car. These umbrellas, pops out at the touch of the button.
And, yes, if you cherish strolling in the rain, no other umbrella can beat this. These umbrellas are extremely stylish and worth flaunting. The Rolls-Royce Umbrella is a prime case of the idea and craftsmanship.

Yeah, before you consider buying a Rolls-Royce Umbrella, you should realize it's cost. It's only for $700, not much right?

Yeah, I know, it's quite expensive.
So, maybe you should plan to get the Rolls-Royce vehicle first, with the umbrella included. It's a nice idea, won't you agree?

Yeah, It's a lame joke. Sorry!

If you ever plan to get your hands on a Rolls-Royce umbrella, buy the least expensive on eBay at the price of $385.