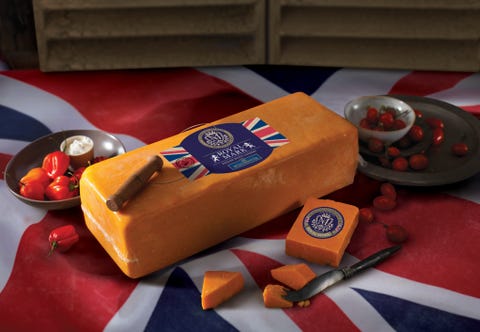 Royal baby fever is on full swing! Given that Duchess of Sussex is due to give birth to her first child with Prince Harry any day now, companies around the world are pulling up their sleeves to cash in on the little one's arrival.
Whole Foods Market, an American supermarket chain which exclusively sells organic products, is launching a unique, limited-edition "Royal Addition Cheese" to celebrate the birth of the royal family's newest member.

This dairy product is going to be cheddar cheese which is one of the most popular varieties in both the countries – the U.S. and the U.K. It is a befitting tribute to both Meghan Markle and Prince Harry's respective roots. Earlier known as the Westminster Royal Mark red cheddar cheese, it is made in Southwest England, and will launch at the Whole Foods stores once the royal baby arrives.
According to a statement, the "Royal Addition Cheese" has "a slight pleasant tanginess and a creamy texture, with flavor notes of burnt caramel and a slightly sweet and nutty finish, to create a world-class taste, worthy of royalty."

Apparently, the appearance of this special cheese was taken into consideration as well. More specifically, this "Royal Addition Cheese" uses tropical fruit pulp annatto to it a unique, vibrant orange hue, just like Prince Harry's signature hair.
So when exactly can consumers expect to get their hands on a cheese fit for a pint-sized prince or princess? The Royal Mark cheese is slated to be exclusively sold at select Whole Foods Market stores nationwide, though it will not be available in the Rocky Mountain region. It's expected to be sold for $9.99 to $12.99 based on region.
Additionally, the limited quantities of the cheese are set to be timed to the birth of the new royal baby, meaning the product likely won't hit shelves until the little one makes his or her highly anticipated debut.

Don't be surprised! This isn't for the first time Whole Foods has marked a royal's birth with cheese. The chain honoured Prince Louis, and Prince George's arrival with same cheesy fanfare.