The origin of Chess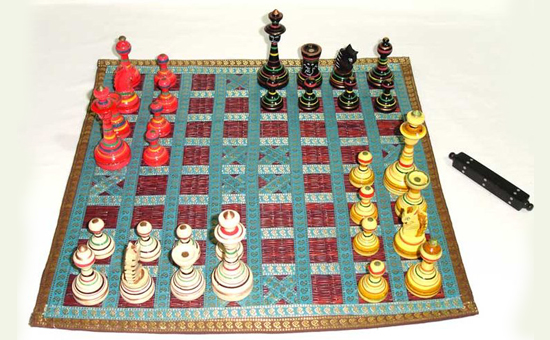 The most commonly held belief is that chess originated in India, where it was called Chaturanga, which appears to have been invented in the 6th century AD. Although this is commonly believed, it is thought that Persians created a more modern version of the game after the Indians.

How is chess played
Chess is a board game for two players. Each player starts with sixteen pieces: eight pawns, two knights, two bishops, two rooks, one queen and one king. The goal of the game is for each player to try and checkmate the king of the opponent. Checkmate is a threat ('check') to the opposing king which no move can stop.
The colourful and vibrant chess

Although famous grandmasters insist that appearance of chess isn't important at all, it doesn't prevent modern designers to create new models of game pieces, more and more creative.

The Zelda Chess Set
From its initial release back in 1986, the Legend of Zelda video game series has captured the hearts and imaginations of players of all ages. Over the last few decades, newer editions to the game have continually been released, drawing in generations of new fans, as well as keeping the fun alive for those who have been fans since the beginning!
Now, in 2019, there are nearly 20 instalments of this classic video game, each with its own unique enhancements to the classic tale of Link – a young boy on a mission to rescue a beautiful princess.

For fans who can't get enough of the characters and story, even when they aren't in front of the gaming console, a number of classic board games (from Monopoly to Yahtzee) have been re-imagined with a Legend of Zelda theme.
Happy to share that now its chess with the legend. Video game enthusiasts, lovers of unique chess sets, and die-hard fans of the world of Legend of Zelda are bound to love this stylish set.
So gather your courage, your Master Sword and Light Arrows – or perhaps the sword of the Six Sages instead! – and get ready to explore the land of Hyrule as you've never quite experienced it before.
Details of the Zelda chess set

The Legend of Zelda takes its epic battle to a chessboard. The Legend of Zelda Chess set features prominent hero and villain characters from The Ocarina of Time and pits them against each other in a battle of wits and good vs. evil!
The set consists of 32 custom legend of Zelda figurine pieces made of vinyl. The heroes are represented by Link (King), Zelda (Queen), Impa (Bishops), Epona (Knights), Darunia (Rooks) and Navi (Pawns). Villians are represented by Ganon (King) Twinrova (Queen), Iron Knuckle (Bishops), Phantom (Knights), Armos (Rooks), Dekunut (Pawns).

The characters of the classic Nintendo franchise have been reimagined as chess pieces. Team gold features Link as the King, Zelda as the Queen, Impa as a Bishop, Epona as the Knight, and Darunia as the Rook with Navi pawn pieces. Team black has Ganon as the King, Twinrova as the Queen, Iron Knuckle as the Bishop, Phantom Knights, Armos Rooks, and Deku Scrub Pawns. It also comes with a custom game board decorated with the Hyrule crest.
Final Thought
Embark on an adventure in Hyrule with all your favourite characters. This legend of Zelda collector's edition is the must-have Zelda chess set of any fan. The attention to details and stylish look of the chess set makes it unique. I'm sure all Zelda enthusiasts out there will love this beautiful chess set.